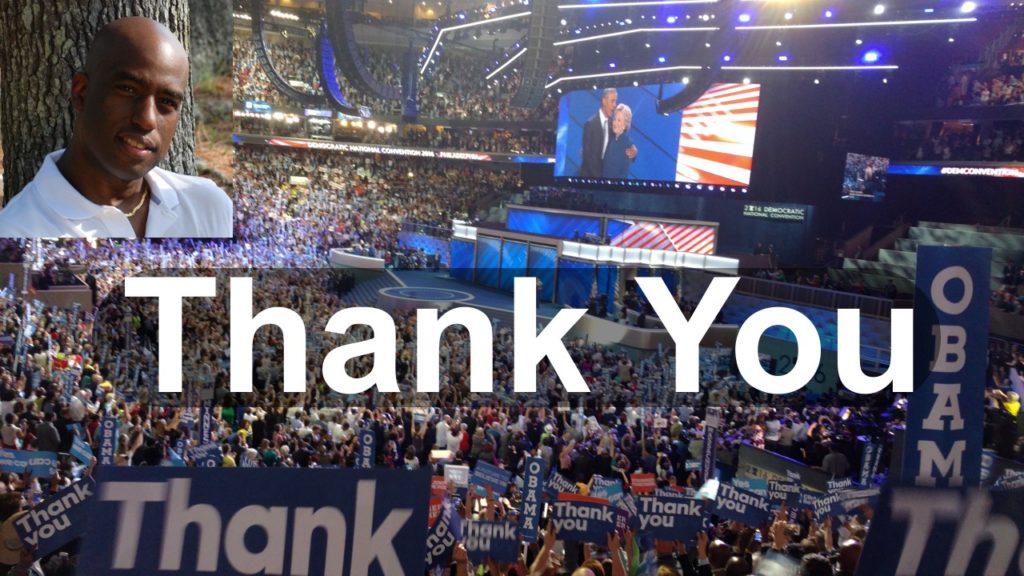 I want to thank all of you who made three trips to my/our progressive activities possible by funding my GoFundMe account. Not only did you make the Democratic National Convention in Philadelphia possible, but also my Netroots trip to St. Louis, and my Coffee Party BOD meeting Blue Ridge Georgia. (I quadrupled up with other Bernie and Hillary delegates for frugality at the DNC  which afforded it).
I attended Netroots Nation 2016 between July 13th and July 17th. It was one of the most eventful Netroots Nation as the organization refocused on social, economic, and racial justice issues in a more intentional manner. I posted a few pictures and Facebook Live videos. I will aggregate them all here.
I attended the Democratic National Convention as a Bernie Sanders delegate between July 25th and July 28th. At the end of the convention, the party was mostly unified in support of Hillary Clinton in order to ensure that Donald Trump does not get the opportunity to cause harm to our economy and culture, our country. I already uploaded much of the videos to my youtube channel and will be adding all the photos shortly. I interviewed several people of interest that still need processing. I will complete most of it this soon. The entire convention report will be kept here. So visit often as I add and make changes.
I attended our all volunteer organization Coffee Party USA Board of Directors meeting between August 4th and August 7th. I am the director for the Coffee Party USA Newsroom where we promote original content bloggers and news stories of importance and of interest. This year we coalesced around a strong voter education and turnout strategy that we will be releasing in the forthcoming weeks. I will aggregate pictures, videos, and reports here.
These are the people who made it happen. THANK YOU
Ashley Willies
Audrey Fisher
Barbara Boldenow
Bill Crosier
Brian O'Neil
Carolyn Russell
Cathy Courtney
Charlie Lindahl
Cherri Lewis Michelle Richardson
Chi Sexton
Christina Walsh
Danny Cardwell
David Riese
Deb Hale
Debilyn Molineaux
Deborah Montesano
Deborah Mowrey
Deborah Siefert
Delilah Jean Williams
Duane Bradley
Elizabeth Burton
Ellen Schulman
Fumi Knox
Gary Binderim
Helene Haase
Irene Tosch
James Gibson
Jeanene Loouden
Jen and Rafael Cortines
Jill Cody
Jody Lee
Joe Stephens
John Cotter
John Cotter
Jonathan Greenberg
Jude Kirkeeide
Judy Miller
Judy Miller
Julie St. John
Kenneth Kenegos
Kevin Higgins
l B
Louis & Kim Henderson
Louis DeScioli
Maggie Wickwire
Marianne Castiglia
Marilyn Haugen Hagle
Mark Gilbert
Marsha Block
Mary Hailey
Mary Waterstone
Max Eisele
Maye Mohamed
Michael Adcock
Michael Thome
Natalie Moloney
Pamela Spivey
Paul Morgan
Paula Leu
Robert Mark
Roberto Lewis
Robin, Antoinette, Justin Sheppard
Rud Merriam
Sally Davidson
Salvador Perez
Sean Turner
Sharon Kopina
Sharron Rush
Shelly Baker
Stephanie Kelly
Sue Pilko
Susan Meissner
Susan Thomasson
Teresa Allen
Tracie Jones
Veronica Monge
Anonymous(BK)
Anonymous(DS)
Anonymous(DM1)
Anonymous(DM2)
Anonymous(DM3)
Anonymous(EW)
Anonymous(JH)
Anonymous(JB)
Anonymous(JY)
Anonymous(JM)
Anonymous(KB)
Anonymous(KM)
Anonymous(KW)
Anonymous(MD)
Anonymous(NG)
Anonymous(PR)
Anonymous(PS)
Anonymous(PL)
Anonymous(PT)
Anonymous(RS)
Anonymous(RS)
Anonymous(SO)
Anonymous(VB)
.
.