In the new world of uncoded sensibilities, it's not hard to infer that this elementary school teacher felt a Trumpian freedom to vent her inner racist. In the process, Jane Wood Allen lost her job. Maybe she can apply to be a spokesperson for the Trump campaign as she is likely to fit in perfectly. Given her prejudiced statement, she does not belong teaching young impressionable kids.
Elementary School Teacher Jane Wood Allen Racist Post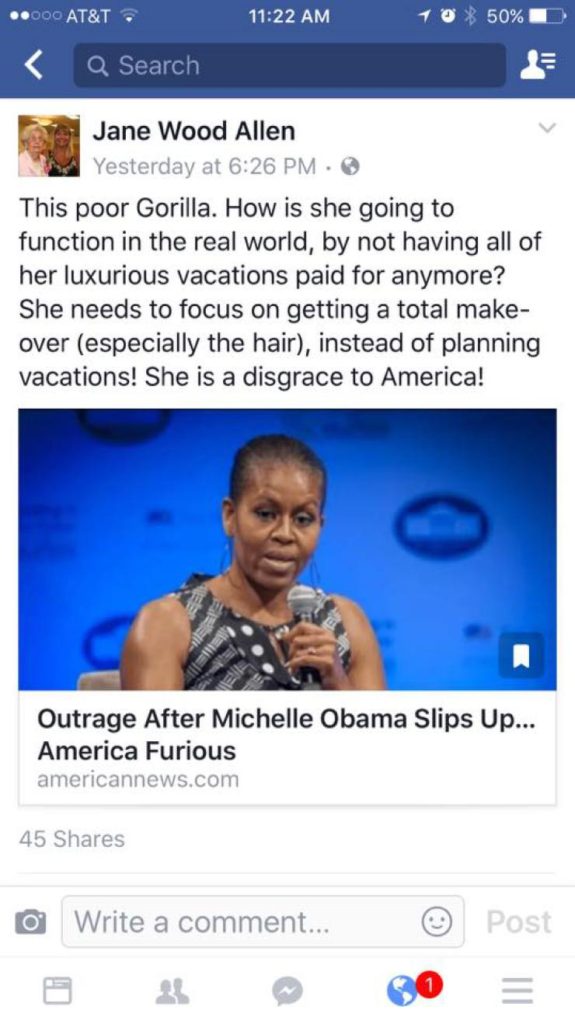 Jane Wood Allen's post read, "This poor Gorilla. How is she going to function in the real world, by not having all of her luxurious vacations paid for anymore? She needs to focus on getting a total make-over (especially the hair), instead of planning vacations! She is a disgrace to America!"
According to Fusion,
Jane Wood Allen is a Facebook user who identifies as an employee of Chestatee Elementary School. It just so happens that Jane, according to some screenshots captured by Houston PhD student Roni Dean-Burren, is liable to post some racist stuff on Facebook. … The school was notified of the posts on Friday, and confirmed they were related to an employee in the Forsyth County school district.
"We have and will continue to address this issue with the employee on Monday," Forsyth County Schools spokeswoman Jennifer Caracciolo told the AJC. "Racism and discrimination are not tolerated in Forsyth County Schools."
Fusion's calls to Caracciolo and Allen were not immediately returned.
According to the Forsyth County News, this isn't the first time an employee in the school district faced disciplinary action for some questionable social media behavior. In February, Lambert High School principal Gary Davison was placed on leave for sharing some Islamophobic memes on—you guessed it—Facebook.
UPDATE: Forsyth County Schools announced Monday morning that Allen had been "relieved from duty." "Racism and discrimination are not tolerated in our school district," they added.
Ms. Allen teaches kids. Anyone that is as loose with their innermost prejudices as she is should be kept away from the teaching profession. Forsyth County Schools did the tight thing. One cannot know what hateful demons live withing. Policy can enforce behavior to ensure that the scourge is contained.