It seems Donald Trump is accelerating Texas' return to the Democratic column after an absence for a generation.
Hillary Clinton could Texas could turn blue a couple of cycles early

In polling news that likely has the Republican Party up in arms, Hillary Clinton could win Texas, a new battleground state with a statistically tied race. Lawrence O'Donnell could not hold back his surprise and elation.
"The Clinton and Trump campaign war rooms are tonight staring at a stunning new poll that could represent the biggest change we've seen in American presidential politics in a generation," O'Donnell said. "Texas, that's right, Texas is now a battleground state. Texas has been solidly Republican since 1976. Since then two Texas Republicans have won the presidency three times, both of those Texas Republicans named George Bush."
Here is the latest University of Houston poll of Texas voters.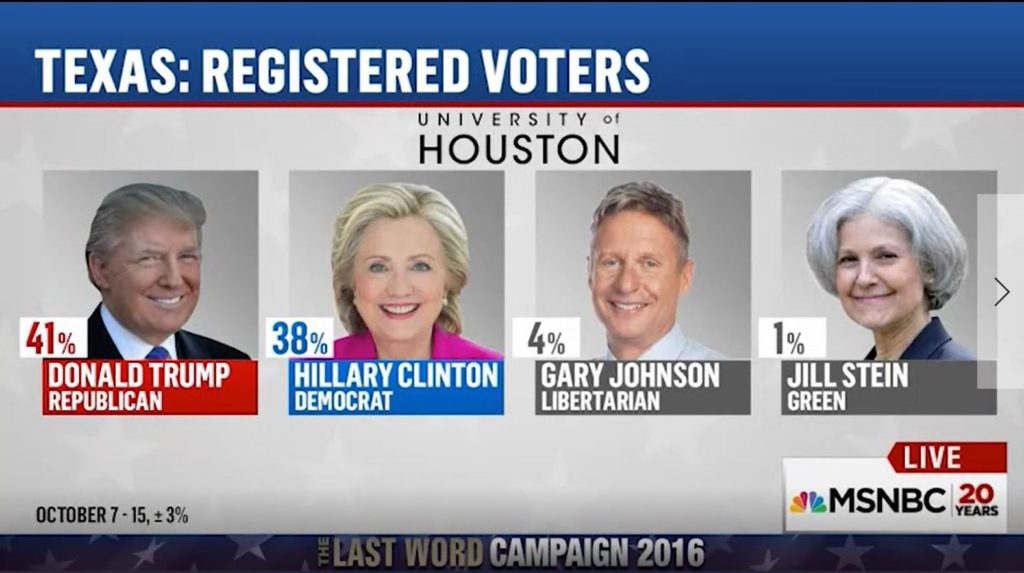 FiveThirtyEight.com predicts that Hillary Clinton has a better chance of winning Texas than Donald Trump winning the election.
"If they continue to put up candidates like Donald Trump," said a panelist. "They [Republicans] face demographic Armaggaedon. Texas is a state with a huge Latino population percentage-wise. … These states are kind of the future. They kind of show the war for American politics. So Democrats should be feeling optimistic about it and Republicans should be feeling very troubled that Hillary Clinton, a Democrat is going to up ads in Texas."
"He [Donald Trump] is about to destroy the top-down electoral dominance of Republicans in the state of Texas," another panelist said. "This is the definition of insanity at this point."
While no several pundits cannot grasp that a Democratic win in Texas is a possibility, they fail to note an important fact. Texas is a Red state because a large pool of Democrats does not vote. Trump could be the catalyst that brings a new wave into the state.