By Steve Holland and Jeff Mason
WASHINGTON (Reuters) – President Donald Trump on Tuesday abruptly fired FBI Director James Comey in the fallout over Comey's probe of Democratic presidential nominee Hillary Clinton's emails last year, saying Comey was no longer able to effectively lead the agency.
"It is essential that we find new leadership for the FBI that restores public trust and confidence in its vital law enforcement mission," Trump said in a letter to Comey released by the White House.
Trump told Comey in the letter he accepted the recommendation of Attorney General Jeff Sessions that "you are not able to effectively lead the bureau."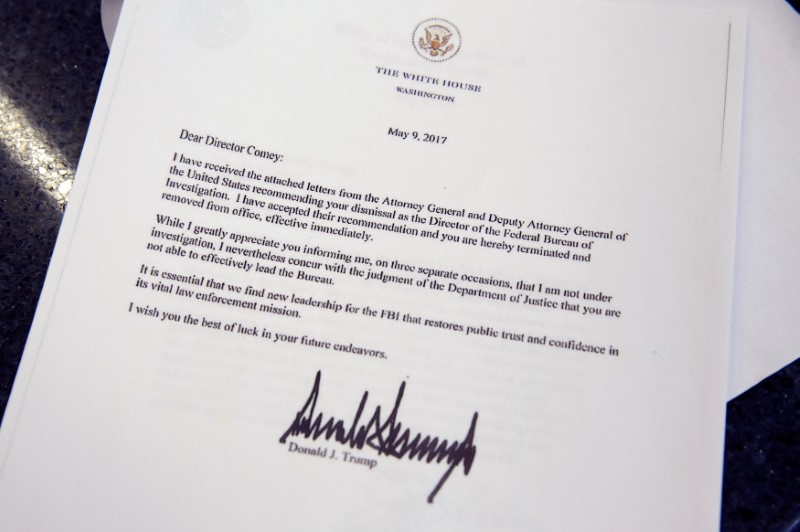 Comey has been embroiled in controversy surrounding his probe into whether Clinton's use of a private email server while U.S. secretary of state during President Barack Obama's first term compromised national security.
He said in July that the case should be closed without prosecution, but then declared – 11 days before the Nov. 8 election – that he had reopened the investigation because of a discovery of a new trove of Clinton-related emails.
It was a decision Democrats believe cost Clinton victory.
The White House released a memo by Deputy Attorney General Rod Rosenstein about Comey's actions.
"I cannot defend the Director's handling of the conclusion of the investigation of Secretary Clinton's emails, and I do not understand his refusal to accept the nearly universal judgment that he was mistaken," Rosenstein wrote.
Rosenstein identified several areas in which he said Comey had erred, saying it was wrong of him to "usurp" then-Attorney General Loretta Lynch's authority by announcing the initial conclusion of the email case on July 5.
Comey "announced his own conclusions about the nation's most sensitive criminal investigation, without the authorization of duly appointed Justice Department leaders," Rosenstein wrote. Comey also "ignored another longstanding principle" by holding a news conference to "release derogatory information about the subject of a declined criminal investigation."
Comey told the Senate Judiciary Committee last Wednesday it made him "mildly nauseous" to think his announcement of the reopening of an investigation into Clinton's emails affected the 2016 presidential election, but he had no regrets and would make the same decision again.
(Reporting by Steve Holland and Jeff Mason; Editing by Peter Cooney)