Many would want to view incidents like this Police Chief sharing a racist mem as an isolated incident. Unfortunately for all the people of color who have had bad experiences with police officers just because of who they are, understanding that who many of these guys are is important.
Assistant Police Chief sends out racist meme
Louisiana Police Chief sends out a racist meme that pretty much encourages a murder if one's daughter dates a someone he disapproves of.
Huffington Post reported the officer's name as Wayne Welsh. Here is the meme Assistant Police Chief Wayne Welsh posted on his Facebook page. The post showed a white woman holding a white child's head underwater in a bathtub with a caption that says this is "what you do" when your daughter's "first crush" is a black child.
Assistant Police Chief Wayne Wesh shared this racist meme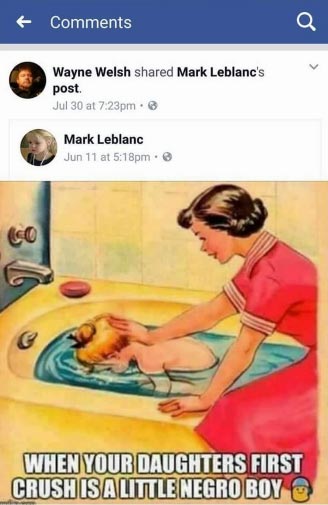 According to KATC.COM, Wayne Welsh was not initially apologetic for this racist act.
Earlier in the day and yesterday, he wasn't so apologetic, although he said he did take down the offending post. "It's not against the law to share something on Facebook. It's social media. Internet," he posted. "I shared somebody else's posts and everybody mad at me again," he wrote. "So Facebook police mad at me." He also posted about the "race card" and how people want to say he's a "bad guy."
His Facebook page shows that he is simply not a very nice person. Again according to KATC.COM
 The officer's page also has shared posts that: call women in burquas "trash bags," make fun of Democrats, in particular female elected officials and Michelle Obama, make fun of overweight women and of women who receive child support.
Welsh later took down the post with a rather disingenuously sounding apology.
"Well, I posted something on Facebook that made a lot of people mad," he wrote. "Well, I'm sorry for what happen. Ya have a blessed day."
If the rot is at the top of the command chain, it is not hard to infer that it occurs throughout the police departments. These incidents are far too frequent and the disproportionate bad treatment and bad outcomes for people of color far too prevalent to discount this incident as isolated. The story is deeper than just this little Lousiana town, Estherwood.