Restaurant owners decided that they could mix their Trumpian politics with their business, Cup It Up America Grill, in a very multicultural city. They paid dearly for it.
How could these restaurateurs believe that they would get away with such a divisive statement? How could they show such disregard for their customers with such a Trumpian statement?
Restaurant owners' Trumpian Facebook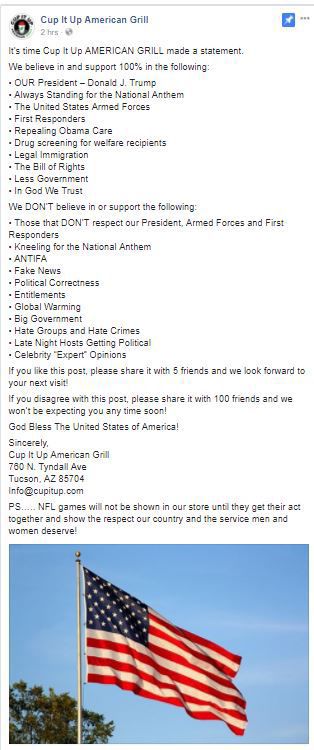 Tucson.com reported the following.
The owners of the University of Arizona-area restaurant Cup It Up American Grill on Saturday apologized for bringing their personal political beliefs "into a business forum."
The statement, sent to the Star and signed by Cup It Up owners Christopher Smith and Jay Warren, came after the pair was criticized for a Facebook post on Friday that laid out their political beliefs. Among them was support for President Trump and opposition to NFL players taking a knee during the national anthem.

"Our decision to bring our personal political beliefs into a business forum is regretful, and for this we apologize to all," the pair's statement read.
Earlier Saturday, Smith had toyed with the idea of indefinitely closing the restaurant, located in the bustling Main Gate district near the UA, in light of the widespread condemnation for the politically charged post.

"It's hate feedback and it's for one reason only and it's that we showed our support for Donald Trump," he said Saturday morning. "There was nothing that we put in the post that was absolutely wrong and terrible in that we supported our president and our troops."

Cup it Up's Facebook post was up for three hours Friday before it was removed. On Saturday, the restaurant's Facebook page was deleted.

In the Smith-Warren statement, the pair admitted they "never ever fathomed this would create such negative and hateful responses, including threats to burn down our building with us inside."

"These types of comments have no place regardless of anyone's political beliefs," the statement read. "We assumed there would be some discussion and shares, but never this type of animosity and hostility."
Tucson.com now reports that the restaurant is now closed after the backlash.
Cup It Up American Grill closed for good on Monday, three days after two of its owners posted a politically charged statement on Facebook that prompted angry social media backlash and calls to boycott the University of Arizona-area restaurant.

Julian Alarcon, a former partner who was not involved in Friday's Facebook post, said the restaurant at 760 N. Tyndall Ave. was the target of harassing and threatening phone calls throughout the weekend. Two employees quit Saturday because of the calls and several more quit throughout the weekend, he said.

"It's not worth it," said Alarcon, the operating partner and chef who resigned Saturday morning in response to the Facebook post from partners Christopher Smith and Jay Warren.

The pair's post laid out their political beliefs that included support for President Trump, standing for the national anthem and repealing Obamacare, and opposition to fake news and the concept of global warming.
One hopes more of these business people will realize that most Americans do not share their draconian beliefs. And trying to exercise them while dependent on the masses for their income will not be tolerated.