There is a Facebook meme circulating that should give Progressives pause. It is likely the work of a Right Wing meme shop, but it tells a remarkable story. It describes a narrative about selective relative outrage. The idea behind the meme is to codify in the minds of many that Progressives are hypocrites in the manner they respond to issues they deem to care about widely. And to some extent they are correct.
Sexism and misogyny are prevalent in the film industry, an industry that leans Progressive. It is a known that people whisper about, but do nothing about, no marches, no significant op-eds, etc.
To be truthful, Conservatives and Right Wingers in the aggregate do the same. They have embraced Donald Trump even though his values are anathema to everything they've ever preached.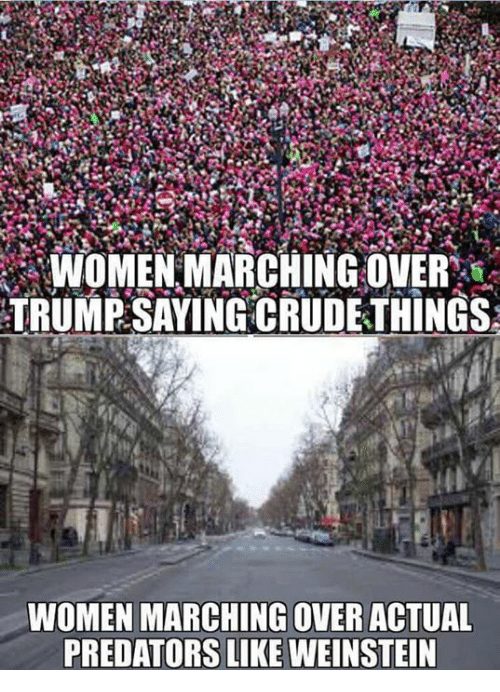 The issue here is that sexism and misogyny are just as prevalent on the Right as it is on the Left. The only difference is that Progressives codify their objection to it with laws while Conservatives and the Right Wing ignore the reality. In fact, the Right passes bills to cauterize anti-women law into society.
Conservatives oppose laws that force companies to provide birth control, an economic issue for both women and their partners, yet there is no such concern over male impotence drugs like Viagra. Sexism is so baked into our societies; many do not give these issues a second thought, not even many Progressives supposedly fighting the good fight. The same hypocrisy occurs with abortion, an issue that affects women both from an economic standpoint and to some a moral one.
A quote erroneously attributed to Gloria Steinem while amusing explains it all.
I want any young men who buy a gun to be treated like young women who seek an abortion. Think about it: a mandatory 48-hours waiting period, written permission from a parent or a judge, a note from a doctor proving that he understands what he is about to do, time spent watching a video on individual and mass murders, traveling hundreds of miles at his own expense to the nearest gun shop, and walking through protestors holding photos of loved ones killed by guns, protestor who call him a murderer. After all, it makes more sense to do this for young men seeking guns than for young women seeking an abortion. No young woman needing reproductive freedom has ever murdered a roomful of strangers.
The story about an immigrant in a detention center denied an abortion that she was paying for herself by an overbearing Right Wing administration illustrates the degree to which sexism permeates our society. A man sitting down in some high office decided he would control the life of a pregnant seventeen-year-old.
The Progressive agenda is the correct agenda for society. They write papers on racial equality, gender equality, social justice, criminal justice, and they say all the right things. What they do not do that make them a legitimate target for the Right, is to get sufficiently introspective.
The same sexism and all the other isms that affect the Right also affect the Left. Because Progressives attempt to pass laws to mitigate these isms do not give them a pass to ignore the perpetrators of these. That many Progressives who previously voted for President Obama either sat out the 2016 election, threw away their vote or voted for Donald Trump show the extent to which sexism still permeates the Left. One can be sure that a man with Hillary Clinton's vast capabilities and baggage would have decimated Donald Trump, an incompetent psychopath.
Progressives must start making the type of cases similar to the quote attributed to Gloria Steinem when supporting women's issues or issues of the other. After all, many times it seems the fight is just not there with the appropriate intensity on issues related to the isms that they should be fighting for, day in and day out.
More importantly, however, progressives would do well to mitigate their issues of sexism and all the other isms within their base. Extricate them from the Democratic Party, think tanks, and NGOs. The other side, the Right, is looking in, and if the differences are simply laws but not the hearts of people, they have nothing to fear because Progressives would be but a dim reflection of who they are.
Politics Done Right covered this topic on a show titled "The rebirth of America must come through women seizing power" that is worth a watch/listen.