The Georgia Democratic Party do not know who they are messing with. Tamara Johnson-Shealey does not back down to anyone. She is in it to win it for her district. Johnson-Shealey has been to every corner of the district putting in face time, people time, touch time, and in the process developed a new motto, "Just 7% more."
In a year that is slated to be a Blue Wave with a known candidate in the district who have developed a rapport with the district, it is ironic that another candidate is seen as the candidate of the establishment. It speaks to a dysfunction in the party that must be eradicated.
Tamara Johnson-Shealey on Politics Done Right with Egberto Willies
Tamara Johnson-Shealey appeared on Politics Done Right with Egberto Willies recently. She discussed her race and several of the difficulties running when one feels the party is actively supporting one candidate over another. She speaks about having to overcome additional headwinds from being a female candidate of color in a predominantly white district and a difficulty in fundraising. She also discussed her initiatives to discuss race relations candidly and how to improve them.
Who is Tamara Johnson-Shealey?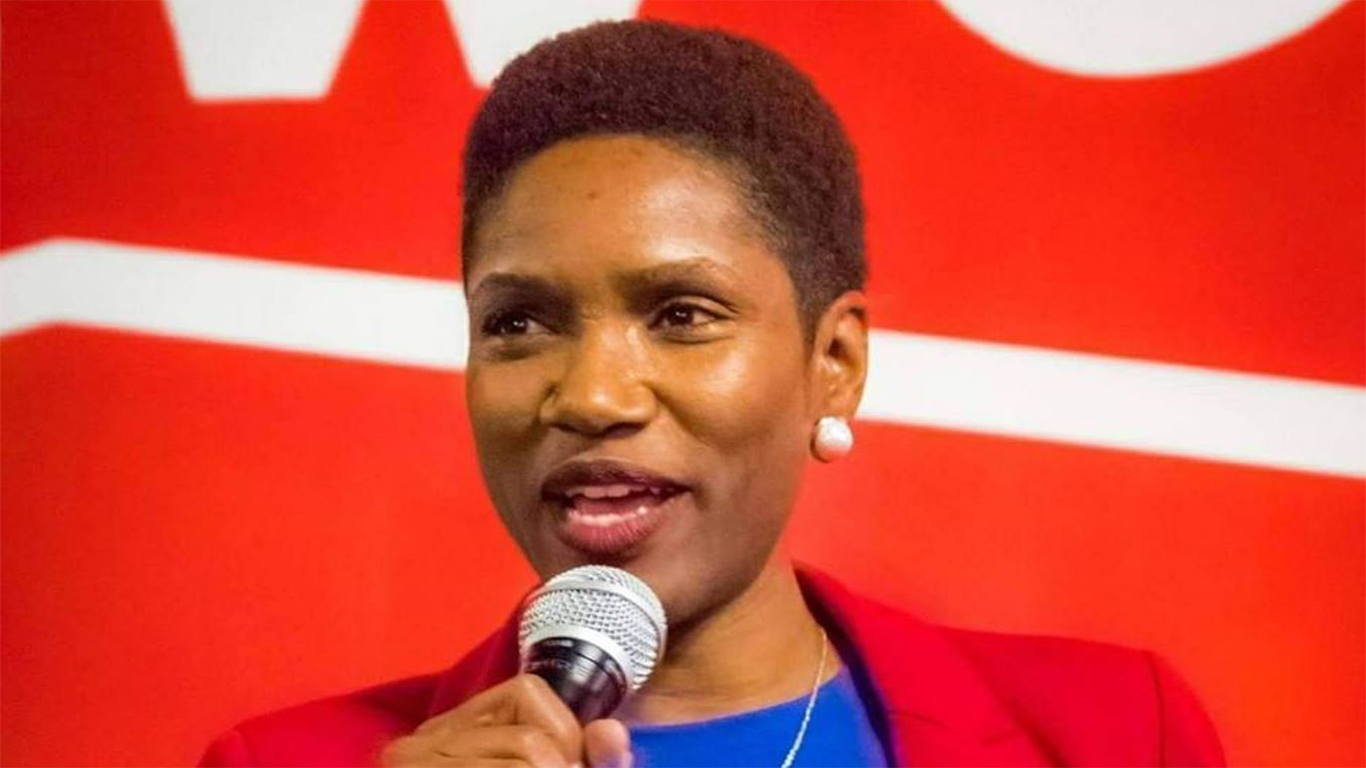 Tamara is a Georgia native, born and raised in Chatham County with deep family roots in Effingham County. She has lived in DeKalb and Gwinnett Counties for more than 22 years. Tamara understands what the voters of the 40th Senate District need because she lives the same day-to-day reality. A working mother and wife, Tamara built her own business as a nail salon owner for 10 years and worked as a licensed nail technician for nearly 20 years.
Tamara is a true progressive fighting for Economic Justice, Equal Opportunity, and Empowerment for All in the 40th District. After watching the leadership in her community drift farther and farther away from the interests of the people, she stepped up and took on the status quo, bringing a new vision and progressive priorities to the race.
Tamara holds a Bachelor's Degree in Computer Information Systems from DeVry University and an Onyxologist Diploma from the International School of Skin and Nails. She is married to Jim Shealey and the mother of two sons, Kenneth and Deven.
Tamara was the Democratic candidate for the Georgia Senate 40th District in 2014 and 2016, coming just 7% away from victory in an unfavorably drawn district. Tamara is the only candidate who has come within striking distance of taking back the 40th District for the people and believes this is the year to make it happen. A connector and a bridge-builder, Tamara will bring that same sense of determination to the Georgia State Senate on behalf of the people she is privileged to serve.
Tamara's path to victory will not be based on any attempt to out-fundraise anyone. She works her district at the grassroots layer. People can see her, touch her, and talk to her. But do not play her cheap. Tamara has the canny ability to turn campaigning on a dime. She is nimble. A case in point is her quick turnaround of a Facebook thread to make a point about Establishment Democrats. It became an email blast quickly
Tamara Johnson-Shealey turns around a Facebook thread that impacts her race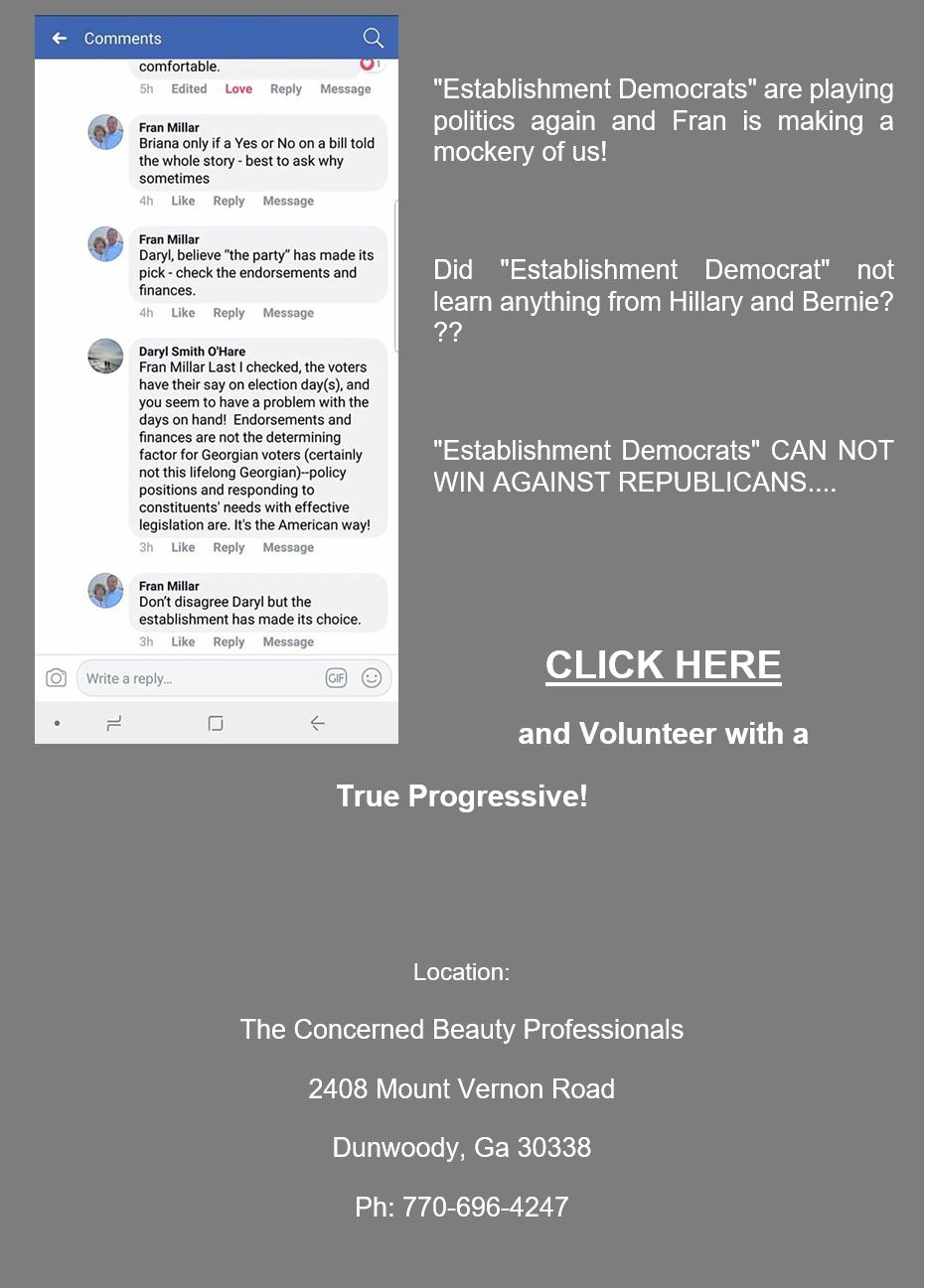 As a business owner, Tamara became concerned about the negative effects of deregulation on health and safety standards in her industry. But Tamara did not only talk about it. She entered the political process. In 2011, Tamara founded The Concerned Beauty Professionals and Politics Beauty – two organizations that advocate for strong health and safety requirements for Licensed Beauty Professionals and the clients they serve. As President of The Concerned Beauty Professionals, Tamara secured a health and safety alliance with the U.S. Occupational Safety and Health Administration (OSHA) and Georgia Institute of Technology (Georgia Tech). As Senior Advocate for Politics Beauty, she successfully campaigned for the introduction of Georgia Senate Bill 64 to strengthen continuing education standards for licensed beauty professionals. And in 2012, on her first visit to Capitol Hill with the Professional Beauty Association, Congressman Hank Johnson agreed to co-sponsor HR 1957, legislation to improve tax policies for the industry.
Website: https://www.tamaraforgeorgia.com/
Twitter: @TamaraShealey