Here we go again. The killing fields in the United States because of a gun lobby and the NRA who have politicians in their pockets continues; another mass shooting.
We all know the solution to this disease. But in America, money rules even over life. As long as we have a gun lobby, a purchased Republican class that are wards to the gun industry, and a media unable to or unwilling to call out the evil against and the manipulation of the citizenry, the killings will continue.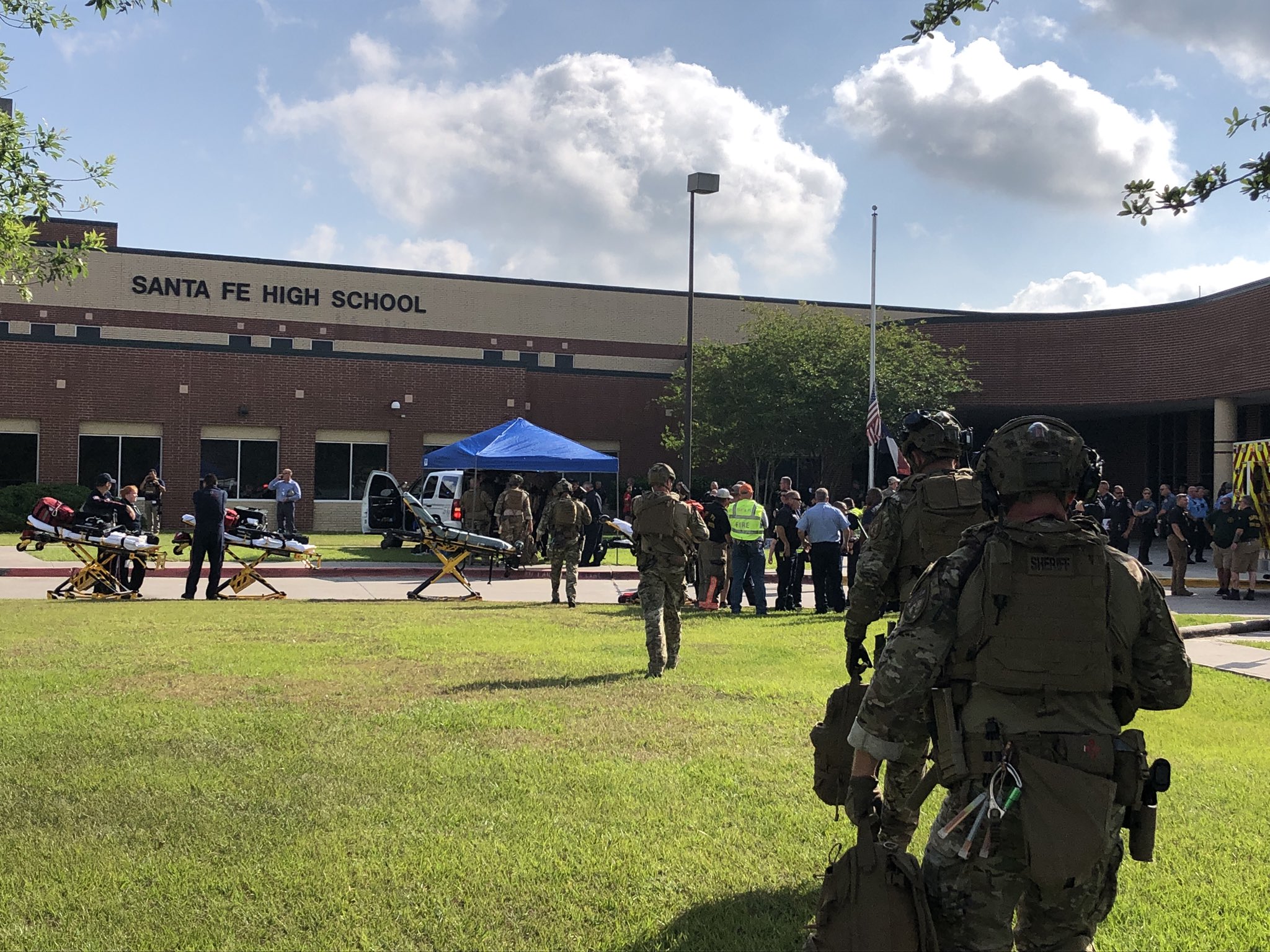 Harris County Sheriff Ed Gonzalez confirmed on Twitter that this is no longer an active situation, but added there are multiple casualties.
The Huffington Post reports the following:
At least eight people are dead in a school shooting in Santa Fe, Texas, several local news outlets reported Friday morning.
The shooter was subsequently "arrested and secured," the school's assistant principal told The Associated Press, local CBS affiliate KHOU and local ABC affiliate KTRK. Harris County Sheriff Ed Gonzalez confirmed that one suspect was in custody, and another was detained. In addition, one police officer was injured.

The school district confirmed that the incident "has been contained."

Local affiliates KTRK and KHOU reported that eight people are dead after law enforcement sources told CNN, KHOU and the Houston Chronicle that there were "multiple fatalities."
Earlier Friday, school district officials confirmed on their Facebook page that the school was on lockdown, following reports of an "active shooter." Santa Fe police told HuffPost that officers were on the scene at Santa Fe High School but would not confirm any other details, while officials at the Bureau of Alcohol, Tobacco and Firearms announced shortly thereafter they were also responding to the situation.
This is Trump's America
This dude just showed up with an American flag and a gun to Santa Fe High School, where kids were just murdered in another school shooting. He said he's there to make America great again. This is Trump's America and one of the village idiots. Arrest him. pic.twitter.com/4UULILwp31

— Scott Dworkin (@funder) May 18, 2018
Eyewitness to the shooting
Santa Fe High School student: "As soon as the alarms went off, everybody started running outside — and next thing you know…you hear 'boom, boom, boom.' And I just ran as fast as I could to the nearest forest, so I could hide and called my mom." https://t.co/RKzmCQIVNi pic.twitter.com/eaNWF0uoDN

— CBS News (@CBSNews) May 18, 2018
22nd School Shooting This Year
Santa Fe High School is the 22nd school shooting in America in 2018.

1. Winston Salem, NC

2. Italy, TX

3. Benton, KY

4. Philly, PA

5. LA, CA

6. Oxon Hill, MD

7. Nashville, TN

8. Parkland, FL

9. Savannah, GA

10. Itta Bena, MS

11. Norfolk, VA

12. Mount Pleasant, MI

— Christian J. (@dtxErgaOmnes) May 18, 2018
Will Republicans react this way again? Thoughts & Prayers?
We all know how Republicans will react to this Santa Fe High School shooting. pic.twitter.com/haorKAfjJI

— Denizcan James (@MrFilmkritik) May 18, 2018