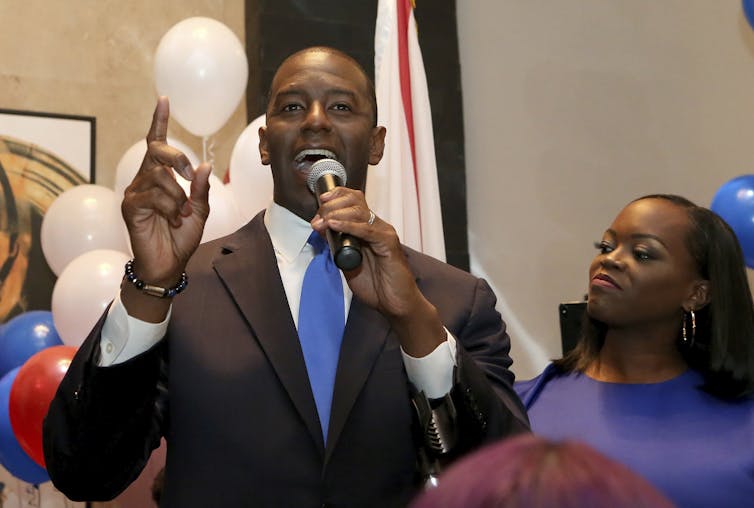 Sharon Austin, University of Florida
Tallahassee Mayor Andrew Gillum electrified Democrats with his surprising victory in the Florida's Democratic primary – but will he go on to win in the general election?
Come November, voters will choose between Gillum and Trump-endorsed candidate U.S. Rep. Ron DeSantis. DeSantis, who represents Florida's Sixth Congressional District, won his nomination by a significant margin. Both men are 39 years old, politically experienced Florida natives – perhaps the only two similarities they share.
After trailing in the polls for weeks before the election, Gillum, who spent US$6.5 million in the primary, defeated three opponents who each spent more than $100 million in their campaigns. Gillum, the only candidate who was not a millionaire, received $650,000 in last-minute contributions from donors such as Tom Steyer and George Soros.
He now joins Georgia's Stacey Abrams and Maryland's Ben Jealous – two other young African-Americans with strong chances of winning their state's gubernatorial elections. Each won their Democratic primaries because of the strong backing from black voters. But because none of them could have won with the black vote alone, their campaigns emphasized issues voters of all races were concerned with, like health care, and education and jobs. All received significant backing in some predominantly white communities.
Their victories are significant and rare because only four African-Americans have ever served as governors in our nation's history – but winning during the general election won't be an easy task.
An uphill battle?
Gillum in particular is competing in a state that hasn't elected a Democratic governor in 20 years. True, former President Barack Obama won Florida twice, but it was by close margins – 3.8 percent in 2008 and 0.9 percent in 2012. Then, President Trump again put Florida in the red category in 2016 by defeating Hillary Clinton by a mere 0.8 percent. However, as a professor of political science and African-American studies, I believe the unpredictable outcomes in recent national elections – as well as Florida's tendency to swing from red to blue – should encourage Gillum.
So how can Gillum win? He'll need a large turnout among his base of minority voters and progressives. He'll also need to expand his appeal among moderate Democrats and to seek crossover support from Republicans who are dissatisfied with President Trump. In the primary, he won only 18 of the state's 67 counties. Some of these included cities and towns with larger minority populations, but others were rural or suburban predominantly white counties – like Clay, Escambia and Hamilton. Gillum also did well in South Florida counties like Broward, Hendry, Miami-Dade and Palm Beach.
Unfortunately for Andrew Gillum, he won't be running against Ron DeSantis alone. He's also be running against Donald Trump.
DeSantis is one of Trump's most loyal allies. Hours after Gillum won the primary, Trump referred to him as "[ DeSantis's] biggest dream … a failed socialist mayor."
Problems at home
A more troublesome dilemma for Gillum concerns Tallahassee's problems.
Three years after he entered office, in June 2017, the FBI issued a subpoena of city records. Although Gillum is reportedly not the focus of their corruption investigation, the investigation allows the DeSantis campaign to accuse him of being untrustworthy regardless of the outcome.
Tallahassee also has the highest crime rate in Florida, even though crime has actually decreased since Gillum began his term in 2014.
On the positive side, Gillum's progressive agenda and endorsement from Bernie Sanders may appeal to younger voters. During the primary, the Gillum campaign emphasized the mobilization of African-Americans and younger voters. Even before he began his gubernatorial campaign, Gillum carried out several efforts to mobilize young voters in support of progressive causes. About a week after a February 2018 shooting at Marjory Stoneman Douglas High School resulted in the deaths of 17 students and educators in Parkland, Florida, Gillum led thousands of gun control advocates in a march at Florida State University in Tallahassee. He also opposes Florida's controversial "Stand Your Ground Law."
Race as the 'elephant in the room'
Soon after Gillum's primary victory, the issue of race surfaced. In a television interview, DeSantis said, "You know, he is an articulate spokesman for those far-left views and he's a charismatic candidate." He then said, "The last thing we need to do is to monkey this up by trying to embrace a socialist agenda with huge tax increases and bankrupting the state. That is not going to work. That's not going to be good for Florida."
Immediately, a debate surfaced about racialized rhetoric. DeSantis later argued that he had no racial intent. But, DeSantis has taken heat before. He referred to Puerto Rican candidate Alexandria Ocasio-Cortez as a "girl of whatever she is" after she won the Democratic primary in New York's 14th Congressional District.
He also was criticized by Democrats – and praised by Republicans – because of a controversial campaign ad that featured him showing his young daughter how to "build the wall" and reading Trump's "The Art of the Deal" to his infant son.
Regardless of the outcome, this will be a campaign that won't soon be forgotten in Florida.

Sharon Austin, Professor of Political Science and Director of the African American Studies Program, University of Florida
This article was originally published on The Conversation. Read the original article.