It is a small world. I think if we remembered that we would likely treat everyone civilly and with respect as we never know where lives cross mutual paths. When one realizes that it is easier to let our evolved human side takeover our carnal animal instinct.
I was sitting down at my office, Starbucks ?, recently. A man came in from a bike ride. He sat next to me and introduced himself. I introduced myself and had some small talk. He then told me every time he comes here he sees me here writing on my laptop. I told him yes, I am a political blogger/media host/activist.
The man asked, "Can you make money doing that?"
I told my spiel as I showed him my website and some other stuff. I explained that after my daughter left Kingwood I felt free to follow my real passion which was to be a part of changing, making America a better place by engaging politically. I was always politically active, from home in Panama to the University of Texas Austin, to now. I explained that I gave up my lucrative company to become a "poor political activist" and that it was not a difficult call. After all, someone with a big mouth is responsible for following the words up with deeds. 
As he asked more questions, I told him that in the beginning I could survive writing and going to conferences from ads and organizations who subsidized travel. Of course, I told him, when Facebook and Google changed their algorithm, small bloggers and other fairly large progressive media sites (Common Dreams, Talking Points Meme, and others) lost up to 90% of their income. Yes, that is 90%. We are all attempting to migrate to a subscription model where people who want independent media to survive can subscribe for pennies. After all, there are more of us than they and pennies do add up.
Unbeknownst to me, it turned out the guy is a well-established doctor with three practices in the area who has kids who are doctors as well. I found it fascinating that like many other good doctors he understood the corrosive nature of Big Pharma and the rest of the Medical Industrial Complex. In fact, while he did not say it outright, it was obvious that he would support a Single-Payer Medicare for All type healthcare system if it solved the problems in his practice. But he was not yet sold on the idea. It was clear he was fighting between tradition and mathematical realities.
But here is the kicker. After the doctor left he apparently called his son and told him he met this black Panamanian at a Starbucks in Kingwood I guess with an ideology on healthcare like him. The doctor ran back into Starbucks and said, "I have my son on the phone. He says he knows you. My son said there can only be one Spanish peaking black Panamanian in Kingwood."? He told his dad he listens to Politics Done Right with Egberto Willies in Michigan and that he has called into the show before. Suffice it to say I was floored and flattered. What are the chances of this? But most importantly his son has published papers on health care and the ACA as it relates to doctors. Of course, I will now republish at my websites.
The doctor asked me to come over to his house later to get some persimmons which he said he grows an excess of as well as to see his hydroponic crop.
I went over to get the persimmons at the Dr.'s home. Instead, I got a bounty from his garden including some stimulating conversation on politics, environment, and culture. Hell, I ate sugar cane grown in his backyard by the lake, while dialoguing. It was I was sitting down on the porch home in Panama talking to an old friend. I thought I would be there for about half an hour but instead spent the better part of two hours. I left with a sugar cane stalk, oranges, jalapenos, banana peppers, serrano peppers, curry leaves, persimmons, and two books he wrote.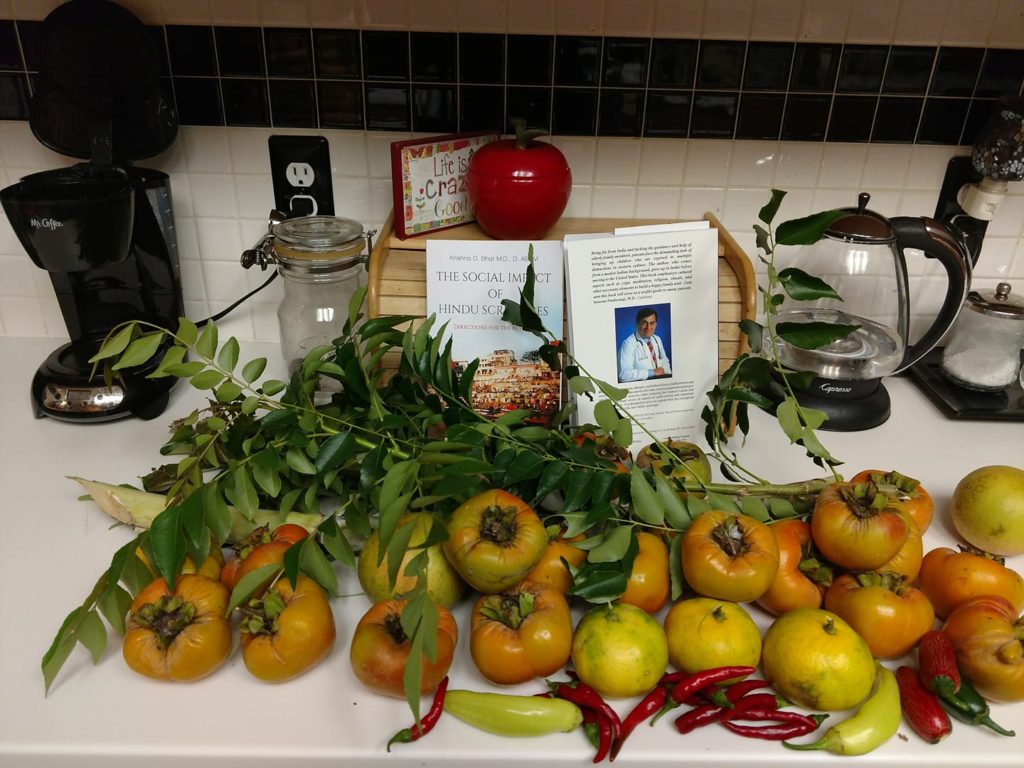 It is a small world indeed.