Judge William 'Bill' McLeod stormed into office at full speed. Everyone he encounters understands for him; it is always people first, community first.
Judge McLeod turned around his office in two months. McLeod and his staff accomplished more in 2 months than his predecessor did in two years.
Understanding that fresh blood in a system is necessary to dislodge stagnation, Judge William 'Bill' McLeod contemplated running for the Texas Supreme Court. He did not realize that Texas had a constitutional provision that results in an implied resignation. When made aware of the rule he immediately withdrew his unofficial run.
That should have been enough. But instead, the County Attorney came calling informing him that he had resigned. The attorney left it up to the Harris County Commissioners Court for final resolution.
William 'Bill' McLeod was instrumental in mobilizing Harris County in 2018. In the process, he built an activist and political posse second to none. As soon as they found out what happened everyone mobilized to support him. His support continues to grow.
While the Harris County Commissioners Court will decide Judge McLeod's fate on April 9th, the re-mobilization of his supporters will likely not wind down any time soon. This incident would have shown them that real democracy requires vigilance. If the outcome is less than an expected democratic result, it is clear that re-mobilized citizens and activists will hold all to account.
McLeod support continues to build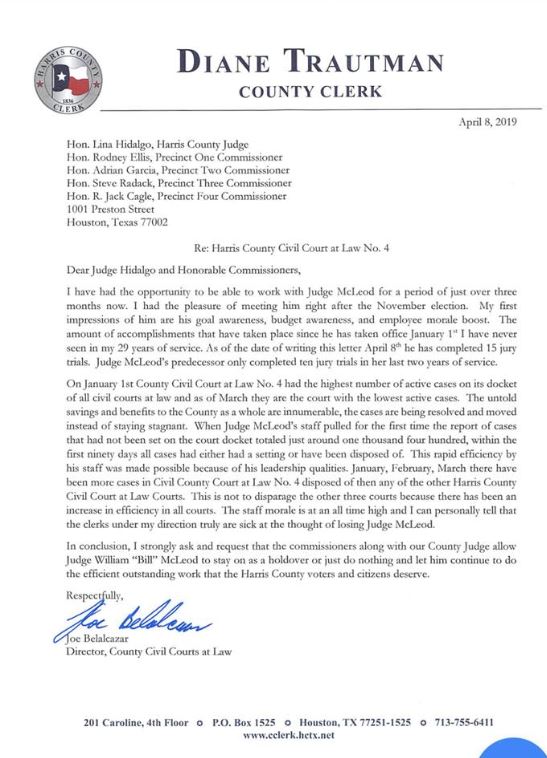 And this …
And this …