Rose Williams was a recent guest on Politics Done Right. Watch her most enlightening interview talking Medicare for all here. Single-payer Medicare for all is the only answer
by Rose Williams & Colin Williams
Expanding coverage is *NOT* progress.
Insurance companies and political pundits WANT to expand the coverage in the current public system:
They know it's inefficient.
When it breaks people will give up on the public system entirely and turn to predatory private insurance lenders.
A public OPTION is much worse than EITHER an entirely private or entirely public system.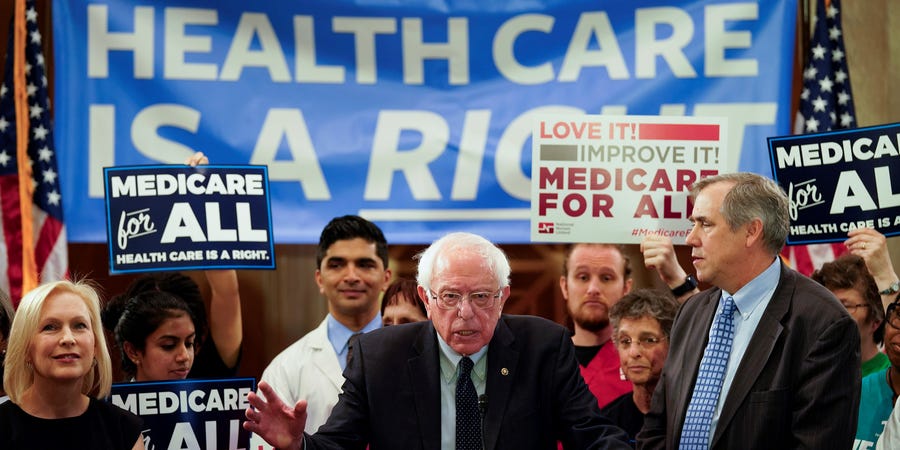 What is insurance:
Insurance is NOT healthcare: It is an entirely different system that pools money to be used by different people when necessary.
It does not improve the quality of the medical care you receive.
On the contrary, in order to be reimbursed for medical care, you must satisfy protocols designed to prevent you from getting health care.
These protocols are often counter to good medical practice: insurance executives are businessmen and women, NOT medical professionals.
The goal of insurance companies is to MAKE A PROFIT, NOT to provide good healthcare
The fewer medical services you qualify for, the more money they make.
The goal of healthcare professionals is to both make a living AND provide good healthcare. If they don't provide good healthcare, they can be fired, sued, etc.
Problems with the Current System:
1) Risk and money pools: In the United States, the highest health-risk people are those with low-income (and vice-versa).  So, with a public/private option, you get all the low-income + high-risk people on the public option while all the high-income + low-risk people use the private option. As a result, you have "Gerrymandered Healthcare." The public option has all the risk and is underfunded, while individuals on the private option are overpaying, often for healthcare they don't need. 
2) Added costs and over-paying: Currently, WE must pay for premiums, deductibles and the costs not covered by insurance.  We are overpaying because putting the insurance middleman/woman in between us and our healthcare adds considerable cost, with NO VALUE ADDED (see below). 
3) Man-in-the-Middle (Adds Costs but no Value):  Added costs include the salaries of the insurance company employees, advertising costs, the bloated salaries of the insurance company executives and lawyers, the bloated profits acquired by the insurance company and their shareholders, and the high cost incurred by the medical professionals who have to navigate the time-consuming and byzantine referral and reimbursement system required by a myriad of individual insurance companies.
Unlike the public system, when there is a profit, the insurance companies keep it. Single-payer, however, pays for no ads, no CEOs, no shareholders, and money that is not utilized is either saved in the pool for future generations to use or returned to the taxpayer in a tax return.
4) The Deductible/Monthly Rate Trade-Off: Do you plan on getting cancer this year?  Personally, I wasn't, but sometimes life doesn't reflect our plans. Current healthcare asks you to "choose" between a trade-off of deductible and monthly rates. Deductibles require that you pay out of pocket before your insurance will 'kick in.'  
If you have a chronic illness or are prone to acute infections, you might choose a low deductible and high monthly rate. If not, you may opt for a high deductible with a low monthly rate. That's a gamble, however, because you may win the illness lottery at any time.
Choose one plan and you may over-pay for healthcare you don't need. Choose another and you may end up dying because you didn't have a plan that would pay for the treatment you unexpectedly needed.
5) Denial of Coverage: Currently, private insurance companies make money by denying coverage whenever they can so that they can take your money without providing a service. This is directly opposed to the public interest, and they can do it arbitrarily. Single-payer covers everything. 
6) No Benefit to Patients from Economies of Scale:  Currently, if you don't pay a high enough premium or get a low enough deductible, you may find yourself in a life-threatening situation without the care you need.  You will have paid the full amount of your premiums, but your plan is inadequate. 
Someone else maybe be paying very high premiums, and not using their benefits, but that doesn't help anyone in the first situation. The insurance company doesn't have to pay out in the first case and pockets the money in the second case.
In a public system, everyone would have access to healthcare, and the system would remain healthy because everyone would contribute a suitable amount according to their income/wealth, and the money would flow where needed.
7) Illusion of 'Choice':  Health insurance is NOT health care.  The purpose of health insurance is to make money for insurance companies, NOT give you 'choices':  Insurance does not exist to improve your health.\
Why would anyone think that shelling out a bunch of money to an insurance company would be better or give you more choices? Saying that having M4A would force you to 'give up' your health insurance is like telling a business owner that if their local area were given the kind of public security provided to wealthy locales, they'd have to 'give up' paying protection money to the mob.
Insurance companies currently dictate which doctors are 'in plan' and which aren't. You can't see any doctor you want and expect to have it covered. In addition (see 14), many areas of the country don't even have certain kinds of specialists, and if they are 'out of network', you're either NOT going to get reimbursed, or you're going to have to pay more out of pocket (I had to pay about 7K out of pocket when I had a couple of brain aneurysms evaluated out of network).
8) Only Private Insurance Can Prevent Long Wait Times:  How medical care is funded has nothing to do with how procedures are scheduled or how long you might have to wait.  In our area, even if you have 'great' insurance it can take months to schedule an appointment with a specialist, or even a Primary Care Dr.  (e.g., I had to wait almost two years to repair a surgical injury. 
However, when suffering from life-threatening conditions I was treated immediately in the emergency room on one occasion and got scheduled for several tests and appointments the following week in another).
9) Expensive Care Doesn't Guarantee Results or Prevent Bankruptcy:  Even if you have good insurance, there's no guarantee that you won't go bankrupt for serious and/or chronic illness, or even that all the money you spent will leave you better off. 
The first episode of the Netflix series Diagnosis offers a many-faceted example. A young woman had been plagued by a constellation of serious symptoms for a period of about 10 years (e.g., Every time she had a flareup, she would experience severe pain and her urine would turn dark brown). After years of going to a collection of doctors and specialists, she was no closer to a solution, but she was going bankrupt because of the cost. Everyone was happy to take her money, but she couldn't even get a diagnosis, let alone treatment – That is, before she went to a European country with Universal Health Care: within three months she was diagnosed and (now that her actual illness was known) given a treatment plan – all without incurring any additional cost.
10) Employer Leverage, Risk to Entrepreneurs and their Employees:  When I worked in the industry, the biggest impediment to changing your job was the fear of either losing your insurance, anxiety about the network you might be forced to use, or possibly finding out that the new insurance wouldn't cover something necessary for you or your family.  This is a common fear (unless you're already wealthy) for those who'd like to start a new business or who would like to work at a startup.  New businesses are great for our economy but pose a great risk to employers and employees both.  With M4A, the probability of success can be significantly increased, and potential jobs would become more attractive.  In general, having M4A would make it easier and less stressful for potential employers to create new jobs, and for working Americans to want to apply for those jobs.
It should be clear that M4A would spur business innovation and entrepreneurship across this nation once health benefits were no longer the responsibility of employers. It would be good for them AND good for us.
11)  Weakening Unions:  Currently, if you are a union member, regardless of what kind of insurance your employer provides, there is NO guarantee that it can't be taken away from you.  If you go on strike, you may, in fact, lose your insurance.  With M4A, union workers have more leverage to negotiate for better conditions and/or better wages without putting their family's health at risk.
12) Coverage for Women and LGBT+ Folk: Many states currently deny the use of public funds for things like family planning services, breast cancer screenings, and hormone treatments for trans folk. Their justification is that private lenders should be able to decide if they want to cover those things or not. But many don't, and as a result, there are large regions of this country where people aren't able to afford those services.
13) Mental, Dental, Vision, etc.:  Insurance executives aren't doctors, and many of them do not understand and respect the monumental importance of mental health, dental services, vision, etc. Teeth are not a luxury. Eyes are not a luxury. Mental health and stability are not luxuries. They are necessities that we all require to live healthy and productive lives. But they are necessities that most insurance plans don't cover.
14) Proximal Coverage:  One common problem in our local area is that many mental health providers don't accept the insurance which most people have.  There are very few in-network providers, and since many people locally have the same problem – those providers are at capacity.  If you need treatment you are either in for a long wait, or you will have to pay out of pocket (or both . . .)
15) Misalignment Between Good Government Policies and Actual Government Policies:  Recent irresponsible government actions such as rolling back EPA regulations and underfunding the FDA highlight the conflict between what government should be doing to protect its citizens versus what it's actually doing to please corporatists and the wealthy.  If the M4A were enacted, and we were dedicated to both providing good health care to everyone in this country as well as keeping costs down, could this motivate public servants to 0support policies that promote good public health rather than endanger or destroy it? 
Allowing the growing momentum of global warming will certainly trigger a variety of health crises in this country (see below). Fracking increases the risk of earthquakes (who knew that playing Jenga with the earth might not be a good idea?) and exposes both wildlife and residents to dangerous heavy metals and nuclear waste including radon gas, radium strontium, thorium, and barium.
Working Americans, as well as wealthy Americans, would spend less on healthcare (in the form of taxes) if we started aligning our policies to support and protect our citizens instead of harming them.
16) Public Health Risks:  According to Bill Gates, it's only a matter of time before the next global pandemic hits, and not having universal health care is a risk for ALL of us. 
It's the poor and underinsured who tend to be affected by illness first, and they usually don't go to the doctor until the situation is so dire that they must, despite the cost. Think about what this means in terms of incubation periods.
By the time it comes to the attention of the medical community, so many more people will be exposed, and the longer people wait to get treatment, the higher the probability that patients will become critically ill (which will incur more costs) or die. These pathogens are always evolving and today their challenge is worldwide.
Global warming also poses new and significant risks. The following article warns: "Melting permafrost may release "zombie pathogens" that have been frozen in ice for centuries while warming temperatures will allow disease-spreading insects to roam far and wide. Threats now confined to the tropics will likely become problems at higher latitudes."
https://www.livescience.com/55632-deadly-diseases-emerge-from-global-warming.html
Examples cited in this and other articles include anthrax, Zika, Bubonic Plague, Dengue Fever, Cholera, and the Spanish flu. Other pathogens are being released with which we've had no interaction for thousands of years. In a recent case, researchers found a giant virus frozen in the Siberian permafrost which was still infectious after 30,000 years.
17) Terrorism:  While so many are worried about nukes and chemicals, the easiest and cheapest way to cripple or destroy an entire society is via bioterrorism.  Depending on the implementation, it's not even that difficult. 
Recent breakthroughs in genetics including CRISPR make it possible for ordinary people to edit the genes of micro-organisms — and even their own genome — in their kitchens and garages. Bio-hacking is becoming a popular hobby in certain circles despite the legal scrutiny which some proponents have come under.
Nathaniel Head, the supervisory special agent of the FBI's Biological Countermeasures Unit has stated, "We want to learn about biohacking and to be able to separate between the white and the black hats," in order to differentiate 'between harmless amateur tinkerers and potential bioterrorists misusing genetic engineering technology.'
https://www.bbc.com/future/article/20130124-biohacking-fear-and-the-fbi
A simpler but horribly effective strategy could be employed by terrorist organizations who've made use of suicide bombers. How much more effective would it be to get volunteers to go into outbreak areas, get deliberately infected, and then infect volunteers who would travel to target countries, thus spreading the infection.
Bad actors would certainly target the homeless, the poor, and the undocumented, guaranteeing the outbreak would remain undetected until it had ample time to spread to the general population.
18) Everybody is in Network and Everything is Covered: Under single-payer, every doctor is covered. Period. Every procedure, medicine, service – Covered. No paperwork. No deductible. No co-pays. Nobody can deny you services because of who you are, what you have, or what you need. It's covered.  That's a HUGE amount of ACTUAL choice, much more than the current system allows.
It's covered, not because it is free or because someone else is paying for it. It's covered because as a society we agree that it's a priority, and we ALL pay our share.
Single-payer healthcare is JUSTICE because it LEAVES NOBODY BEHIND. Expanding a broken healthcare system still leaves the most vulnerable people un-insured or under-insured. Those people are black, brown, LGBT, trans, women, service workers, construction workers, etc. We all have a vested interest in keeping our fellow working class healthy so they can do the work that we rely on to survive as a society, and so that all of us remain healthy and productive. Regardless of your economic or social standing, with Medicare for All the life, you save may be your own!
Some common language used to mislead people:
-"Affordable" – a meaningless, arbitrary term. What is affordable to Elizabeth Warren is extremely different from what's affordable to the construction worker next door.
-"For all who want it" – Posing the illusion of a choice when in reality the choice Buttigieg is trying to protect is the choice between overpaying or dying from under-insurance.
-"Universal coverage" – Covering everybody is not enough if everyone is universally under-insured.
-"Medicare for all" – Same as above. Bernie's plan is called M4A, but many people call their plans "M4A" when they really mean having everybody insured despite under-insurance and broken gerrymandered private/public pools.
---
Rose Williams is a lecturer at Binghamton University currently teaching introductory Python to students new to programming and Software Engineering to computer science majors. She taught courses that include Programming with Objects in Java, Data Structures in C++ and Introduction to Computer Science. Prior to joining the university, Rose was a Software and Systems Engineer for Link Flight Simulation working in the areas of Tactics/Avionics, Visual Database and Radar Simulation. Projects she worked on included simulators for the AH-64 Apache Helicopter, the B-2 Stealth Bomber, the F-16 Fighter Jet, and other rotary-wing military aircraft.
Colin William is a recent graduate of Binghamton University with a degree in Integrative Neuroscience. He's been working in one of the research labs and is moving to NYC to work at another lab soon.