This feels good as young progressives slowly replace those in the old guard who refuse to make the necessary moves.
---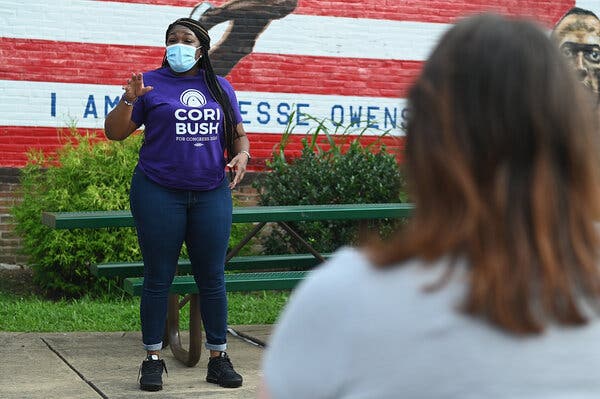 ST. LOUIS — Cori Bush, a progressive activist and a leader of the swelling protest movement for racial justice, toppled Representative William Lacy Clay Jr. of Missouri in a Democratic primary on Tuesday, notching the latest in a stunning string of upsets against the party establishment.
Ms. Bush, 44, had captured nearly 49 percent of the vote by late Tuesday evening compared with 45.5 percent for Mr. Clay, according to The Associated Press. She had tried and failed to unseat Mr. Clay in 2018, but this year rode a surge in support for more liberal, confrontational politics within the Democratic Party amid the coronavirus pandemic and the national outcry over festering racial inequities.
Ms. Bush's victory, which came on the same night that Missouri voters decided to expand Medicaid eligibility, was a significant milestone for insurgent progressive candidates and the groups, like Justice Democrats, which have backed them across the country. It showed that the same brand of politics that has helped young, liberal candidates of color unseat veteran party stalwarts in places like Massachusetts and New York could also resonate deep in the heartland against a Black incumbent whose family has been synonymous with his district for decades.
Source: Cori Bush Defeats William Lacy Clay in a Show of Progressive Might – The New York Times