President Trump and his Republican sycophants are the masters of projection. It turns out voter fraud is from Trumpsters.
It turns out the voter fraud is by Trumpsters
As Trump and most of the Republican leadership stir its low information sycophants into a fearful frenzy about voter fraud, all the evidence continues to prove the party continues the art of projection. And the latest voter fraud reported today in the Washington Post makes it clear.
Weeks before Election Day, Bruce Bartman mailed his mother's absentee ballot with a check mark next to President Donald Trump's name.
The problem was, his mother had been dead since 2008.
Bartman, 70, pleaded guilty on Friday to a charge of felony perjury and unlawful voting — and blamed his decision to cast the fraudulent ballot on consuming too many false claims about the election.
"I was isolated last year in lockdown," Bartman said, while apologizing to the judge for his crime, the Associated Press reported. "I listened to too much propaganda and made a stupid mistake."
Samuel Stretton, Bartman's attorney, added in court that his behavior was "a very misguided political mistake, and very stupid," according to the Philadelphia Inquirer.
After sentencing him to five years' probation, leaving him unable to vote for four years, Common Pleas Court Judge George A. Pagano noted that Bartman's crime "goes to the heart of our democracy," according to the Inquirer, but also commended him for taking ownership of his crimes.
Ironically, this conviction comes out soon after Liz Cheney forcefully stated no election fraud and that the big lie is coming from Donald Trump.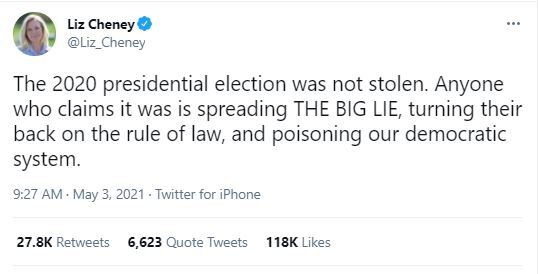 "The 2020 presidential election was not stolen. Anyone who claims it was is spreading THE BIG LIE, turning their back on the rule of law, and poisoning our democratic system," Liz Cheney recently tweeted.
Rep. Anthony Gonzalez (R-OH) had a prescient statement.
"If a prerequisite for leading our conference is continuing to lie to our voters, then Liz is not the best fit," he recently said on a phone interview Friday. "Liz isn't going to lie to people. Liz is going to say what she believes. She's going to stand on principle. And if that's going to be distracting for folks, she's not the best fit. I wish that weren't the case."
Voter fraud convictions on Republicans, as opposed to Democrats, should not have come as a surprise. One cannot forget that Texas Lieutenant Governor Dan Patrick put up $25 Million for anyone who would report voter fraud. The only ones unearth from Pennsylvania Lieutenant John Fetterman. Dan Patrick refused to pay John Fetterman.
Projection & lying continue to be the modus operandi of the Republican Party.