These 21 Republicans, the ones who always preach law and order and support to those in blue voted against awarding Capitol police the Congressional Gold Medal.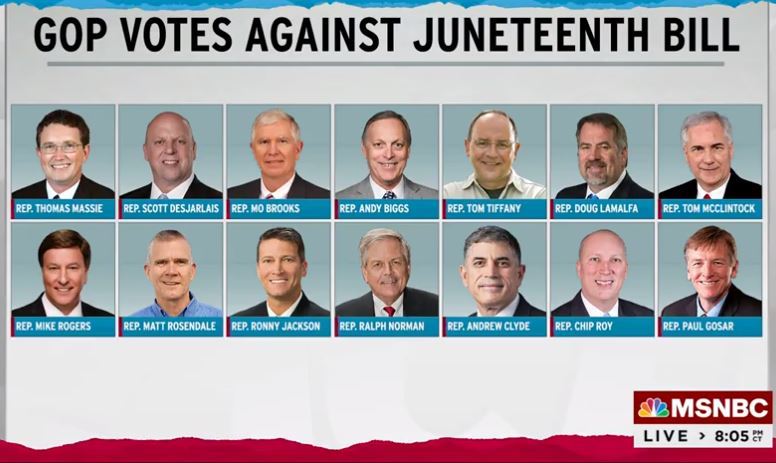 Here is the list! Make sure to vote them out in 2022.
Lauren Boebert of Colorado
John Rose of Tennessee
Andy Harris of Maryland
Thomas Massie of Kentucky
Bob Good of Virginia
Louie Gohmert of Texas
Barry Moore of Alabama
Ralph Norman of South Carolina
Matt Rosendale of Montana
Marjorie Taylor Greene of Georgia
Chip Roy of Texas
Paul Gosar of Arizona
Andy Biggs of Arizona
Warren Davidson of Ohio
Scott Perry of Pennsylvania
Matt Gaetz of Florida
Greg Steube of Florida
Andrew Clyde of Georgia
Jody Hice of Georgia
Mary Miller of Illinois
Michael Cloud of Texas
Congressional Gold Medal vote: 21 Republicans vote no on bill – CNNPolitics

(CNN)Despite the House and Senate coming to an agreement that will award the Congressional Gold Medal to the officers who defended the Capitol, 21 House Republicans voted against the legislation Tuesday, the latest reminder that members of Congress still cannot agree on the facts of the deadly January 6 riot.

The final vote in the House on Tuesday was 406-21. The number of House Republicans voting against the bill nearly doubled since the first time a version of the bill came to the House floor, as the vote when the bill first passed the House in March was 413-12. Republican Rep. Lance Gooden of Texas was the only GOP member to vote no in March and change his vote to yes this time around.

Both the House and the Senate had passed their own resolutions to bestow the medals, but the initial pieces of legislation varied. The revised bills will now award three medals — one to the entire US Capitol Police force, and one to the Metropolitan Police Department, "so that the sacrifices of fallen officers and their families, and the contributions of other law enforcement agencies who answered the call of duty on January 6, 2021, can be recognized and honored in a timely manner."

A third will be put on display at the Smithsonian Institution, with a plaque that lists all the law enforcement agencies that protected and defended the Capitol.
Source: Congressional Gold Medal vote: 21 Republicans vote no on bill – CNNPolitics