MSNBC's Ali Velshi nails it in a short but, as usual, completely informational segment. David Whelan was clear that he supports Brittney Griner's release and that Trump did not earn the right to disparage Biden, given he never tried to get Paul released.
Brittney Griner does not deserve this.
As usual, Donald Trump continues trying to create dissension and division in America. I mentioned in my first post immediately after Brittney Griner's release that the right would weaponize it on race and sexual orientation. It did not take long.
Fox News' Tucker Carlson claimed that Biden "chose Brittney Griner over Paul Whelan" because "Whelan is a Trump voter" and Griner "despises the United States." And, of course, Carlson mentions that Griner is "a lesbian" before quickly insisting that that should be irrelevant. That is called ringing the bell, knowing it cannot be unrung.
And then Trump posted the following text on his failed Twitter ripoff app,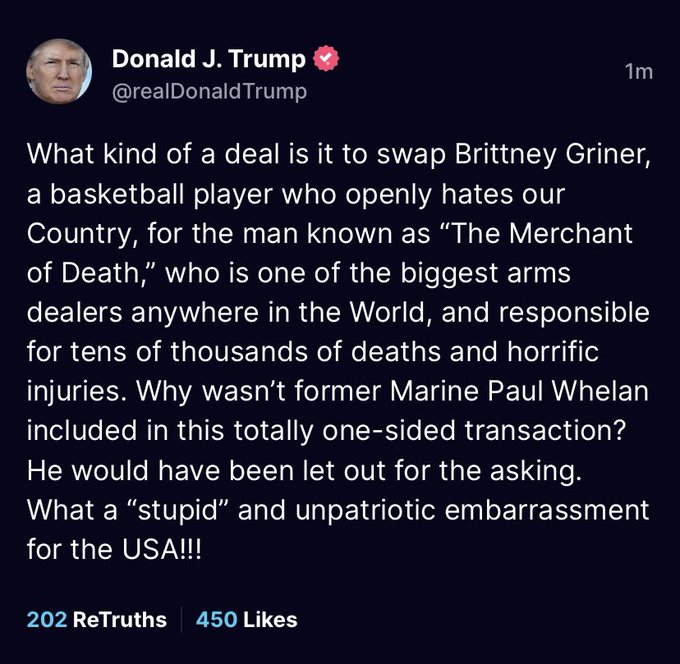 What kind of a deal is it to swap Brittney Griner, a basketball player who openly hates our Country, for the man known as "The Merchant of Death," who is one of the biggest arms dealers anywhere in the World, and responsible for tens of thousands of deaths and horrific injuries. Why wasn't former Marine Paul Whelan included in this totally one-sided transaction? He would have been let out for the asking. What a "stupid" and unpatriotic embarrassment for the USA!!!
Paul Whelan's brother, David Whelan, responded with a tongue-lashing.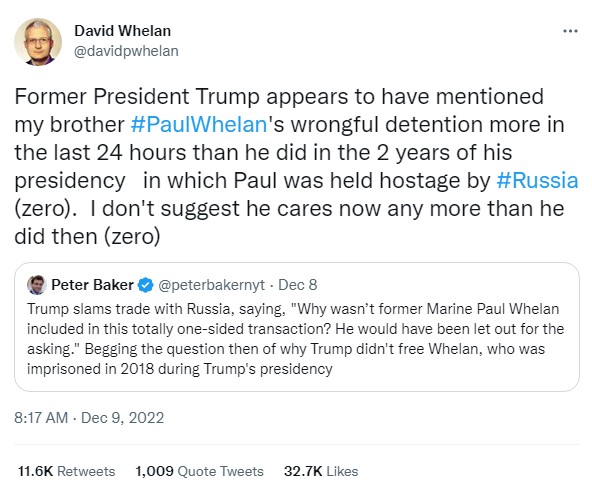 Former President Trump appears to have mentioned my brother #PaulWhelan's wrongful detention more in the last 24 hours than he did in the 2 years of his presidency in which Paul was held hostage by #Russia (zero). I don't suggest he cares now any more than he did then (zero).
It is necessary to say nothing else.