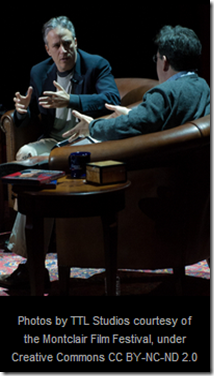 Third Beat Magazine reports that in an interview in Monclair, NJ on Friday night conducted by Stephen Colbert, Jon Stewart's said referring to coworkers at the Daily Show,
"What I did not realize is, a lot of the people who worked there were assholes,".
According to the article he stated that he had discussions with the higher ups describing the type of satire he intended to provide. In effect he was changing the direction of the show he took over from Craig Kilborn.
When he got into the meetings with the writers and producers, he met strong resistance and in fact was told not to change or improvise the jokes. Of course that did not sit well with Jon and he immediately contacted his agent about quitting. He was convinced to stay. Eventually through attrition the staffs not to his liking over the next two and a half years were replaced with those more in tune with Jon's philosophy of the show.
It is difficult to imagine how a much more scripted show would have been as entertaining. Most importantly however is the level of journalism with a twist Jon Stewart brought to the show. He has made it the go to place for in depth analysis on many subjects the mainstream media is unwilling to cover.
Who else could have best extracted a pound of flesh from Chris Christie in an amusing manner while still illustrating the absurdity of the current Republican philosophy? Who else could best illustrate the inconsistency of the reasons behind the voting down of the UN Disability Treaty? Who would have done a better job in putting Fox News' War On Christmas into perspective?
The interview touched on other issues that many were not aware of. Salman Rushdie was upset that Jon Stewart had Yusuf Islam (Cat Stevens) on stage in the battle of the train-themed songs at the Rally to Restore Sanity festivities. It turns out Jon Stewart was unaware that Yusuf had supported the fatwa against Rushdie's publication of the The Satanic Verses. It was noted that subsequent Yusuf appearances on the station did not occur inasmuch as there were two scheduled with Stewart and Colbert.
On a serious note, many have started coming to the daily show to get prescient political analysis albeit with a funny twist on the Daily Show. Jon Stewart hides behind his humor for those who tend to attack him in several venues. The reality is that he need not do that. The mainstream media that should be the source of real information, factual objective political analysis, and a filter for the citizenry has failed miserably for reasons that have been discussed in many articles. Luckily for Americans desiring thoughtful satire and good objective political analysis, Jon saw it fit to weather the storm and stay with the Daily Show.
---