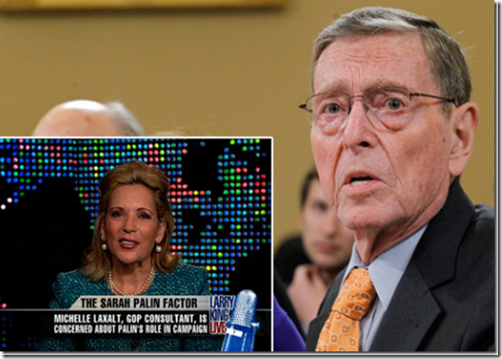 Former very conservative New Mexico Senator Pete Domenici fathered a son 34 years ago with Michelle Laxalt, the daughter of his Senate colleague, Nevada Republican Paul Laxalt. Pete Domenici was married during the affair. Pete Domenic was 46 while Michelle Laxalt was a 24 years old.
This should be nobody's business. It is imperative however that it is made America's business because of  the hypocrisy and moral superiority generally promoted by many on the Right.  Both Republicans and Democrats stray. It is human nature.
According to the Huffington Post

Domenici and Michelle Laxalt sent statements to the Albuquerque Journal identifying their son as Nevada attorney Adam Paul Laxalt. They said they decided to go public with their decades-old secret because they believed someone was about to reveal the information in an attempt to smear Domenici.

"I deeply regret this and am very sorry for my behavior," Domenici, 80, said in his statement, published in the Journal's Wednesday editions. "I hope New Mexicans will view that my accomplishments for my beloved state outweigh my personal transgression."

Domenici and Michelle Laxalt agreed to keep his fatherhood secret because he and her father, Paul Laxalt of Nevada, were senators at the time she gave birth.

Michelle Laxalt is a former Capitol Hill staffer who now works as a prominent lobbyist in the Washington, D.C. area. Public records show she is now 58 and her son is 34.

Laxalt said in a statement that she chose to raise her son as a single parent.

"One night's mistake led to pregnancy more than 30 years ago," she said.
The hypocrisy here is that Domenici voted to impeach President Clinton for his stray. The relative editorial silence from the Right Wing echo chamber is deafening. No continuous news alerts. No continuous BREAKING NEWS.
The excoriations the current crop of Republicans generally imparts on the moral mistakes of others make it a requirement that everyone of their moral failings is exposed with the expectation that it will neutralize any of their further attempts to be America's moral police. Morality should be left to family, friends, and religion. Politics is for the creation of policy to make a better country.
---

LIKE My Facebook Page – Visit My Blog: EgbertoWillies.com
Follow @EgbertoWillies