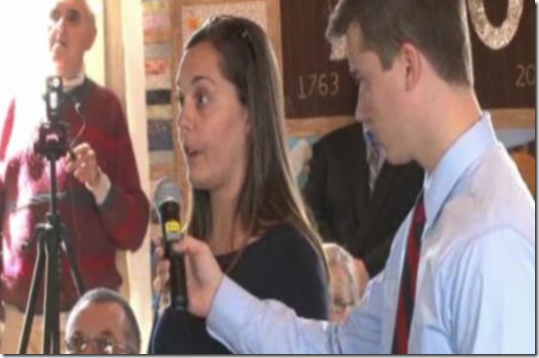 Erica Lafferty
Senator Kelly Ayotte, Republican from New Hampshire is now seeing the ills of taking an ideological vote. She was confronted by Erica Lafferty, the daughter of slain Sandy Hook Elementary School principal Dawn Hochsprung. As reported in Huffington Post:
"You had mentioned that day you voted, owners of gun stores that the expanded background checks would harm," Lafferty said, during a town hall in Warren, N.H. "I am just wondering why the burden of my mother being gunned down in the halls of her elementary school isn't more important than that."

Ayotte told Lafferty she was sorry for her loss but did not directly answer the question.

"I think that ultimately when we look at what happened in Sandy Hook, I understand that's what drove this whole discussion — all of us want to make sure that doesn't happen again," she said.

Lafferty stormed out after the exchange, according to NBC News, saying she "had had enough."

[source]
The vote of every politician has consequences. Some more so than others. The votes that protect the access to guns at all cost kills thousands in America every year, not only the massacres like Aurora or Sandy Hook, but daily in the urban streets and rural communities. It was great to see a town hall where the real silent majority is silent no more.
---

LIKE My Facebook Page – Visit My Blog: EgbertoWillies.com
Follow @EgbertoWillies