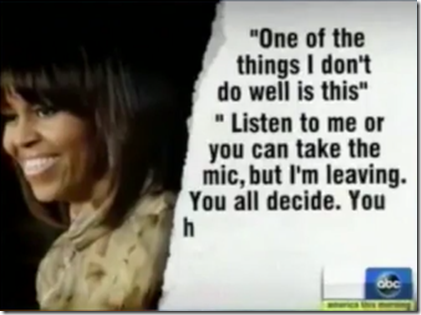 First Lady Michelle Obama was heckled on Tuesday during a speech at a private Democratic National Committee fundraiser. After about twelve minutes into her speech, a heckler standing in front of the crowd started yelling for an executive order on lesbian, gay, bisexual, and transgender rights.
ABCNews reports it as follows:
Obama was delivering a speech at a DNC event at a private home in Washington shortly after 6 p.m. when a protester began shouting for the president to sign an executive order to protect gay and lesbian rights, according to pool reports.

"One of the things I don't do well is this," Obama reportedly responded to loud applause. She then left the podium and walked toward the heckler, saying she could "listen to me or you can take the mic, but I'm leaving. You all decide. You have one choice." [source]
The protester is identified as Ellen Sturtz, a divorced lesbian. She was interviewed by The Huffington Post. In that interview she said she did not go to the event to interrupt the First Lady but to reach out to someone at the DNC to air her concerns. She also told The Huffington Post
"I want to talk about the children," she said. "I want to talk about the LGBT young people who are … being told, directly and indirectly, that they're second-class citizens. I'm tired of it. They're suffering. … We've been asking president to sign that ENDA executive order for five years. How much longer do we need to wait?"

Sturtz donated to the DNC in 2008, she said, in large part because she believed the president would fight to end workplace discrimination. She said she was disappointed in the first lady's response at the fundraiser.

"Basically, I was asked by the first lady to be quiet, and I can't be quiet any longer. … I was surprised by how negative the crowd seemed to be. It was actually a little unsettling and disturbing," said Sturtz.

"She obviously thought she was going to make an example of me or something. I wasn't scared at all," she added. [source]
DNC Chair Rep. Debbie Wasserman Schultz's (D-Fla.) was heckled previous to the First Lady. Autumn Leaf was also calling for an executive order. Schultz told her the way to get ENDA passed was to help Democrats retake the House.
Of course it would not be long before the First Lady would be accused of being aggressive. Heather Cronk, co-director of the pro-LGBT has already stated disappointment and 'surprise" that the First Lady "approached Ellen as aggressively as she did". Maybe the surprise should be that the heckler in closed quarters shouted down the First Lady who has no official political responsibility.
---

LIKE My Facebook Page – Visit My Blog: EgbertoWillies.com
Follow @EgbertoWillies