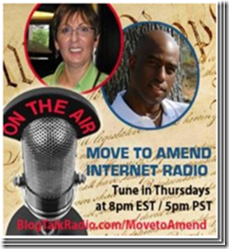 Thursday 7:00 PM Central
Call and listen at 646-652-2345
Listen Live & Podcast Here.
Hosted by National Leadership Team members Laura Bonham and Egberto Willies, will air every Thursday at 8:00 PM ET, 5:00 PM PT.
The show will feature guests who specialize in movement building, amending the Constitution, grassroots organizing, and issues relating to corporate rule and participatory democracy.
Each show provides opportunity for call-in questions and comments from the listening audience by dialing 646-652-2345 (long distance charges may apply).
Today's Show:
★June 6th Guests
Richard Monje, A Vice President of Workers United/SEIU, a union in the forefront of the fight against the attack on workers in the Midwest, known for the organization of low-wage workers. His political awakening came when he was shot by sheriffs following the Chicano Moratorium. Richard has organized with the Texas Farm workers, I.B.E.W., Steelworkers and Workers United. He helped create the union's leadership school where rank and file members take part in creating the political roadmap for the union. Long active in the fight for immigrant rights, Richard's latest endeavor is with the "Move to Amend" organization working to change the constitution to declare corporations are not people.
Kaitlin Sopoci-Belknap will have the grassroots roundup.
---

LIKE My Facebook Page – Visit My Blog:EgbertoWillies.com
Follow @EgbertoWillies