Today the Humble/Kingwood area has just formed a new Battleground Texas Neighborhood Team. Field Organizer Adrianne Bell made the long commute from the South side of Houston to train the group. It was her second commute to the area in as many days. She gave an impassioned speech to the Kingwood Area Democrats monthly meeting on Wednesday.
Karen and Bruce Menke opened their home to members of the community for the meeting. The meeting was attended by Kingwood Area Democrats, Humble Democrats, and other members of the surrounding areas.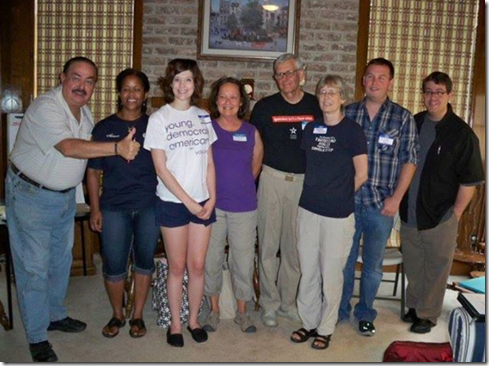 A leadership team was formed. Ms. Bell was excited that the group came together rather quickly and the excitement to start working was palpable. The leadership team is pictured left to right above. Tony Morales was named outreach coordinator. Adrianne Bell is Battleground Texas field Organizer responsible for Harris, Montgomery, and five other surrounding counties. Tuesday Kirby Kahl was named youth coordinator. Maggie Pace Wickwire was named data coordinator. Bruce Menke was named the Team Leader. Barbara Madera was named voter registration coordinator. Cody Pogue was named phone bank coordinator. Geoffrey Geiger was named canvassing coordinator.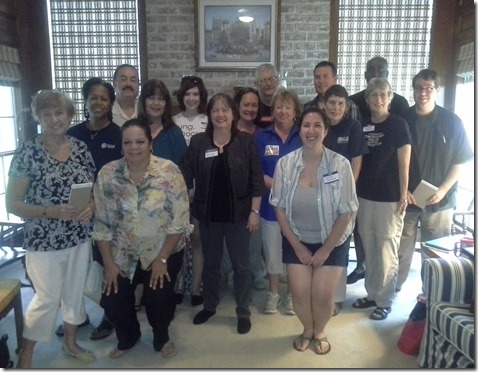 The area that will be canvassed by the group will include all of the Humble Independent School district. The team will be engaging Independents, Progressives, Liberals, the many disaffected Republicans in the area; Latinos, women, young people, minorities, and anyone open to the message of inclusiveness and middle class centric policies. If one believes in family, equal access to success, and basic human and moral values, Battleground Texas will intrinsically appeal to you.
---

LIKE My Facebook Page – Visit My Blog: EgbertoWillies.com
Follow @EgbertoWillies