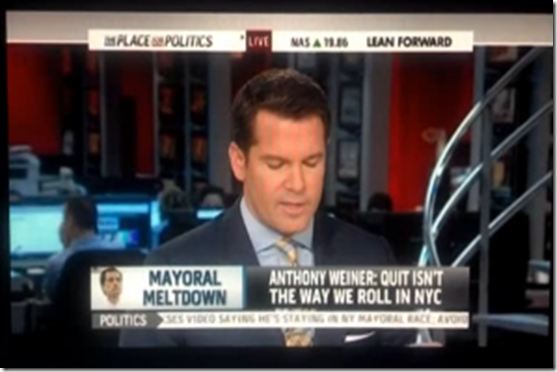 The Weiner sexting scandal that is being over played by the mainstream media is getting so silly, the unprofessional nature of the over coverage is having otherwise good anchors slip into unprofessional speech. MSNBC Thomas Roberts probably wishes he had a two second delay on this one.
It is not at all difficult to see why he slipped.  When Sydney Leathers went onto the Howard Stern show and played as if she was some sort of victim, Roberts seemed unable to fathom the absurdity any longer as she continued to milk her fifteen seconds of fame.
Roberts retorted, "This chick is so bat shit you know, I mean excuse me, bat you know what. Excuse me. But Leathers reportedly considering a porn deal now".
After the segment, Thomas apologized. He said, "I do want to apologize that I had a slip of the tongue right there. That was not very professional on my part. I do apologize."
Here is the video.
OK mainstream media. It is time to get off the Anthony Weiner sexting scandals and talk issues. If somehow Anthony Weiner became Mayor of New York, would this stop the media's fascination with these types of stories that suck the air out of real stories needing to be told and explored? How silly it is that many of you in the mainstream media are now the issue as well.
---

LIKE My Facebook Page – Visit My Blog: EgbertoWillies.com
Follow @EgbertoWillies