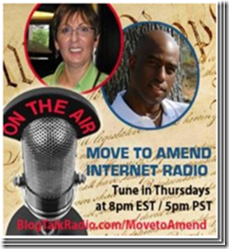 Thursday 7:00 PM Central
Call and listen at 646-652-2345
Listen Live & Podcast Here.
Hosted by National Leadership Team members Laura Bonham and Egberto Willies, will air every Thursday at 8:00 PM ET, 5:00 PM PT.
The show will feature guests who specialize in movement building, amending the Constitution, grassroots organizing, and issues relating to corporate rule and participatory democracy.
Each show provides opportunity for call-in questions and comments from the listening audience by dialing 646-652-2345 (long distance charges may apply).
Today's Show:
Biola Jeje

is t

oday's guest. Biola currently serves as the Regional Organizer for New York Students Rising (NYSR), a statewide network of students dedicated to defending public higher education that began in May of 2011.
She is a recent graduate of Brooklyn College where she has been a student organizer for the past 4 years in addition to doing work at various levels of legislature from local city council to congress to Occupy Wall Street.
Students and former students are going through trying times. It should be a great show.
---

LIKE My Facebook Page – Visit My Blog:EgbertoWillies.com
Follow @EgbertoWillies