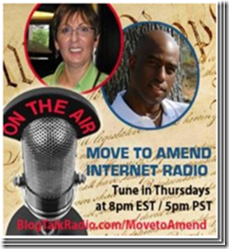 Thursday 7:00 PM Central
Call and listen at 646-652-2345
Listen Live & Podcast Here.
Hosted by National Leadership Team members Laura Bonham and Egberto Willies, will air every Thursday at 8:00 PM ET, 5:00 PM PT.
The show will feature guests who specialize in movement building, amending the Constitution, grassroots organizing, and issues relating to corporate rule and participatory democracy.
Each show provides opportunity for call-in questions and comments from the listening audience by dialing 646-652-2345 (long distance charges may apply).
Today's Show:
Audrey Ewell and Aaron Aites are the award-winning codirector/producer team behind the feature documentary, "Until The Light Takes Us" which was distributed theatrically in North America, the UK, Australia, Germany and Japan in 2009-'10.
In addition to deals in territories her sales agent brokered, Ewell spearheaded the 2010 UK theatrical release of Until The Light Takes Us and brokered digital rights deals and DVD deals in the UK (Independent FilmCompany) and US (Factory 25 and Gravitas), and she theatrically co-released the film with Variance Films), and brokered the all rights dealfor German Territory (with Rapid Eye Movies).
Ewell's first producing credit was on "A Sign From God," a San Francisco narrative feature that premiered at the 2001 Sundance Film Festival. Aites also works as a freelance editor and is the singer songwriter behind the indie-rock band Iran.
Ewell and Aites are the founders and lead directors/producers of "99% -The Occupy Wall Street Collaborative Film." The award-wining filmmaking team is currently developing a narrative thriller, a documentary, and a science fiction film, and are trying to think of a joint production name as cool as The Archers.
---

LIKE My Facebook Page – Visit My Blog:EgbertoWillies.com
Follow @EgbertoWillies