Toronto Mayor Rob Ford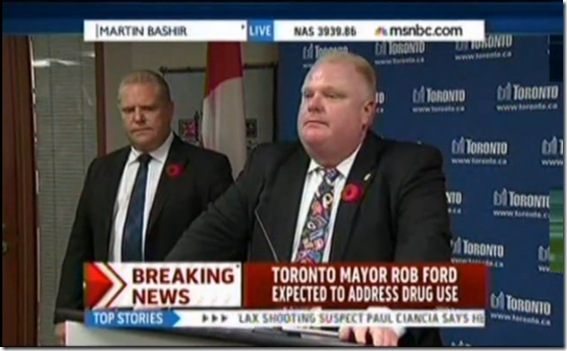 The crack smoking Toronto Mayor Rob Ford had a press conference at his city hall. The press conference lasted about 6 minutes or so. He gave his statement and did not take any questions..
Mayor Rob Ford apologized profusely for smoking crack. He said that he felt a tremendous weight lifted off of his shoulders. Mayor Rob Ford says he was very sorry for embarrassing his  family, especially his brother. He continued to apologize to Toronto citizens.
However the mayor made it clear he had no intentions of resigning.He said he was elected in 2010 to do a job. He said that is exactly what he intends to do. He said he made a commitment to Toronto voters. He said he has delivered on that commitment to save taxpayers money. He said he has done his job.
Mayor Rob Ford said that Canadians live in a democracy. As such they will decide if he will  stay in office. He said in October 2014 Toronto will have their choice.
In other words, Mayor Rob Ford is not resigning. He made it clear as well that he is running for reelection in 2014.
It should be noted that Tom Ford has had substance abuse problems before. In 1999 he was arrested in Miami Florida driving under the influence.
He admitted to marijuana possession in April of  2006. He got the charge dropped without even going to court.Just like he is now saying he is  not an alcoholic nor a crack addict, he said  then he does not use drugs. "I',m not of that scene", he said.
It seems Canada may be a bit more forgiving than the United States. Then again there is always perennial politician Marion Barry.
---

LIKE My Facebook Page – Visit My Blog: EgbertoWillies.com
Follow @EgbertoWillies