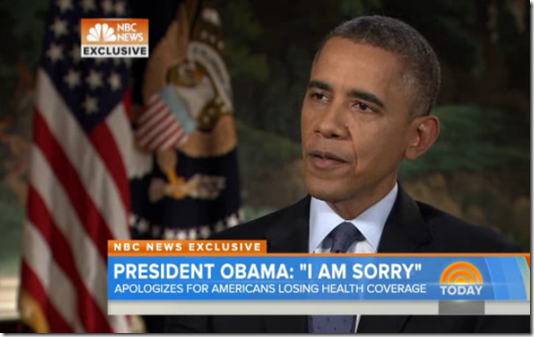 MSNBC's Chuck Todd interviewed the President this week. In the interview the President laid out the intent of the Affordable Care Act (Obamacare). He also explained that the idea was to be the least disruptive as possible in a health insurance market that was dysfunctional for many Americans.
He laid out the reality that upset the vast majority of Liberals. A Medicare for All single payer type system would have been easier to implement. The current implementation of Obamacare attempted to be as undisruptive as possible by keeping the private insurance structure that included the grandfathering of existing plans. Even if these plans were terrible, substantially unchanged plans could be kept. The President opted for the comfort of what one knows as opposed to what is best.
Chuck Todd came to the interview on a mission. He wanted to walk away with an Obama apology. The President was seemingly prepared to give it, and he did. The media got its Obama apology.
That President Obama apology was a very big mistake. It hit the Internet and news outlets before the information was even post processed. There would be no analysis of exactly what the President said he was sorry for. There would be no analysis of the evil within the insurance companies that made the President's statement less accurate.
The story for the Right is simply that there was an Obama apology so there was a lie. From other more traditional outlets, it was just a gotcha moment on a President that simply has been too clean relative to most.
It is true that the President said, "If you like your insurance, you can keep it." Within the letter of the law pre March 23rd, 2010 that is an absolute truth. Plans before March 23rd, 2010 are grandfathered. Post March 23rd, 2010 the statement is incomplete for those buying substandard policies.
Here is a short explanation of grandfathered plans. Was an Obama apology really necessary? The law is clear.
Grandfathered plans

Grandfathered plans are those that were in existence on March 23, 2010 and haven't been changed in ways that substantially cut benefits or increase costs for consumers. Insurers must notify consumers with these policies that they have a grandfathered plan.

There are 2 types of grandfathered plans: job-based plans and individual plans (the kind you buy yourself, not through an employer).

· Job-based grandfathered plans can enroll people after March 23, 2010 and still maintain their grandfathered status. They can do this as long as the plans haven't been changed in ways that substantially cut benefits or increase costs for consumers, notify consumers with these policies that they have a grandfathered plan, and have continuously covered at least one person since March 23, 2010.

· Individual grandfathered plans can't newly enroll people after March 23, 2010 and have that new enrollment be considered a grandfathered policy. But insurance companies can continue to offer the grandfathered plans to people who were enrolled before that date. An insurance company can also decide to stop offering a grandfathered plan. If it does, it must provide notice 90 days before the plan ends and offer enrollees other available coverage options. Learn more about plan cancellation.
Obama apology unnecessary.
If a journalist asks a professor in Houston what is the boiling point of water, he is likely to say 212 degrees Fahrenheit. If one asks Google what is the boiling point of water, it returns 212 degrees Fahrenheit, 99.98 degrees Celsius. Is that a true statement? It is not if you are in Denver. It is not if you are under a very high pressure atmospheric dome. The statement is absolutely true only under the specific conditions of one atmosphere (and other conditions beyond the scope of this essay). If the journalists asked the professor if the statement was absolute everywhere under every instance, and he replied yes, then it would be an untruth.
The President's statement in stump speeches and speeches promoting Obamacare should have been interpreted in the same light as the above narrative. In fact, it has always been. Ana Marie Cox wrote about it in her piece "The false outrage over Obama's 'healthcare lie' is absurd."
The most disconcerting aspect of this episode is the traditional media's continued derelict of duty. The President and his allies chose to keep a private insurance market for healthcare to reduce disruption. In so doing it relinquished a lot of control. These markets kept their freedom. These free insurance markets used that freedom to continue selling substandard policies that stiffed many Americans. Now that these grandfathered policies would likely be abandoned because of better options in the exchanges, they are cancelling the bad policies. Keeping their predatory nature would require changes that Obamacare disallows to protect Americans.
This is the story that should be told. Unfortunately, the propaganda arm of the Republican Party and the Plutocracy, the Traditional Media, serve their masters well. They attempt to forget their complicity during the healthcare debate in giving plausibility to Republican lies. They allowed the phrases "government takeover", "death panels", and other verifiable lies to enter the debate as potential truths. They refuse to analyze in detail the real reasons for current policy cancellations.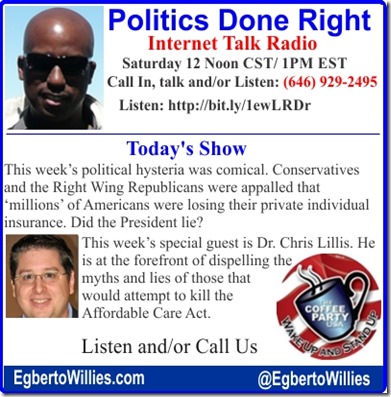 Visit This Post For The Show's Podcast
So why did America get an Obama Apology? The President is generally good at cutting his losses and moving on. He probably made the calculation that an Obama apology would have just enough legs to carry the media cycle until Healthcare.gov was functional. He knows the Traditional Media is fickle and immature.
This short term assessment is likely correct. Long term this Obama apology will be a calling card that Republicans will use against the presidency whenever it comes out with initiatives going forward. The President along with his party should have kept a tough spine with a strong populous message with a hint of Medicare for all to put both the GOP and insurance companies in check.
When most in the individual market realize their good fortune through their own lens as opposed to that of a dysfunctional traditional media, the President's statement will be made completely true. The Obama apology will be made moot. No one would have liked their insurance. No one would have wanted to keep it.
---

LIKE My Facebook Page – Visit My Blog: EgbertoWillies.com
Follow @EgbertoWillies