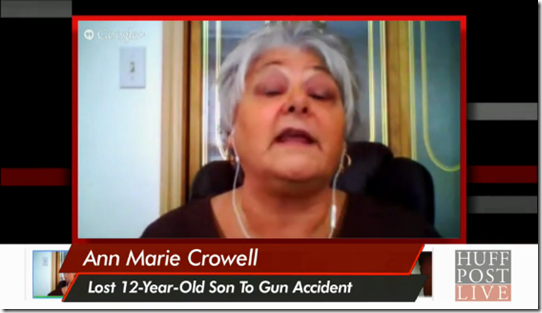 What will it take for Americans to get out of the grips of the National Rifle Association (NRA)?  When will they force the politicians to  act? How many more innocent children must die? How many more massacres must Americans endure?
These stories are of yesteryears and are still occurring today.
"The last words he said to his friend were, 'I can't believe you shot me.'"
— Ann Marie Crowell whose son was shot and killed by his friend on Christmas Eve in 1997

"The boys were playing, and as I understand it… trying to figure out if the gun was loaded. And the gun went off while they were trying to figure that out, and my brother was shot in the head and killed right away."
— Simon Frankel whose brother was shot and killed at 12 years old while vacationing on a ranch in Wyoming in 1973

"The funeral itself, there were over 5,000 people who came."
— Dr. Danny Dwyer whose five-year-old grandson was killed by an accidental gunshot in 2006.
Here are some realities.
Some Gun Violence Realities

Between 1980 and 2012, 300 people have been killed in gun violence in schools (Kirk, 2012).
100,000 people a year are shot in America (Bradycampaign.org, 2011).
Every day, eight children are killed by guns (Bradycampaign.org, 2011).
Nearly 3,000 kids every year will die from gun murder, suicide, accidental, death, or police intervention (Bradycampaign.org, 2011).
Between 2000 and 2009, more than 298,000 people were killed by gunshots in the United States (Waters, 2012).
Of the 62 mass shootings carried out in America since 1982, the killers obtained weapons weapons legally in 49 cases. Of the 142 weapons in the killers' possession, 68 were semi-automatic weapons, and 35 were assault weapons (Follman, Aronsen, and Pan, 2012).
The gun debate must be reignited. It seems that every few days there is some new form of gun violence manifested. The NRA and other gun activists have the cover of the national confusion shielding the daily gun massacre in the country. Unless we engage, the lives of all Americans are at stake.
---

LIKE My Facebook Page – Visit My Blog: EgbertoWillies.com
Follow @EgbertoWillies