Dave Agema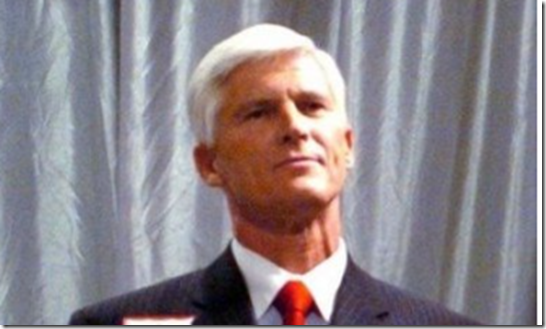 Intolerance can have a material effect on the lives of American citizens. Intolerance can have a detrimental effect on one's health. In a free society, everyone has the right to be racist, sexist, homophobic, and all the other ills of intolerance. To have a vibrant, progressive, and inclusive society, those that act or articulate those social deficiencies have no place in the leadership of any party, government institution, or social serving institution.
Dave Agema served three terms as a Republican in the Michigan House of Representatives from the 74th District. He served in the US Air Force as a fighter pilot for 27 years. He was a senior commercial airline pilot for 27 years. He is now a Michigan national GOP committeeman.
Dave Agema spoke at the Berrien County Republican Party Holiday Reception on Thursday at Pebblewood Banquet Hall in Bridgman. At that party he laid out much of today's Republican ideology as well as his own prejudices.
It is well known that Dave Agema does not support marriage equality. He says he only believes in 'traditional marriage.' One wonders if that includes the 'traditional marriage' of the type Abraham, Isaac, and other men of the bible had. They all had multiple wives.
What is obscene is Dave Agema's account of gays at American Airlines where he worked. He claimed that a gay person would claim another as a lover to get medical benefits. "Folks, they (gay people) want free medical because they're dying (when they're) between 30 and 44 years old," he said. "To me, it's a moral issue. It's a Biblical issue. Traditional marriage is where it should be and it's in our platform. Those in our party who oppose traditional marriage are wrong."
Dave Agema's willful ignorance on this subject shows how he allows his prejudices to obstruct the reality of the current healthcare system. It is true that many people in order to help a fellow human being use partnerships to get healthcare. This has nothing to do with gay partnerships. Straight people do this as well. It speaks more to a failed healthcare system that people must resort to these types of shenanigans to get healthcare.
Dave Agema and his party's objection to the Affordable Care Act (Obamacare) at the same time he demeans the actions of those going through hoops to attempt to help another human being, shows his ineptitude for leadership and governance. He should be supporting policies that make the actions he described unnecessary.
That however is not what Dave Agema or his party is concerned about. Later on he tells the only thing that matters to him. "Is it good for business or is it bad for business?" he said. "If it's bad for business, I won't vote for it."
(h/t David Ferguson)
---

LIKE My Facebook Page – Visit My Blog: EgbertoWillies.com
Follow @EgbertoWillies