McDonald's The Christmas Scrooge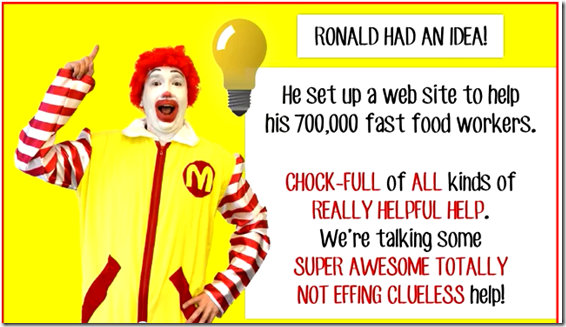 By now most are aware that McDonald's has a website that purports to help its employees. It is called the McResource Line. After viewing some of the advice that they dispense, it should be called 'the attempt at indoctrination line." It tries to take each employee problem that is a result of McDonald's paying them a low wage and provide a solution that is impossible. Sometimes the solution is so silly one wonders if one is reading the Onion.
So here are some problems and the advice given as reported in the video below.
Do you want to reduce your risk of getting a heart attack? Take at least two vacations a year. McDonald's pay such a low wage employees must get several jobs to subsist. Where will the time come for vacations?
Do you want to lower your blood pressure and stress? If you start singing you may just sing your stress away. Really McDonald's. You could really relieve their stress by paying them a living wage so they won't have to stress out about rent, food, healthcare, clothing, childcare, etc.
But here is the Coup de grâce. You simply won't believe this.
Do you want to feel less hungry because you do not have enough to eat? Break your food up into pieces. It will result in you eating less and feeling full. These guys are cannot be serious.
And for your Christmas message there is this one.
Do you want to pay off some of your debt? Why not return some of your unopened gifts. They were not all that appealing anyway. Also see what you can sell on Craigslist and EBay. In other words the average American gets to accumulate no wealth, no capital, no income.
Notice all these issues would be moot if these people earned a living wage. But that would marginally affect McDonald's bottom line. It will cause their executives and shareholders from accumulating a little less unearned income. Who are the real takers again?
McDonald's advice here is just as bad as the advice they gave here.
---

LIKE My Facebook Page – Visit My Blog: EgbertoWillies.com
Follow @EgbertoWillies