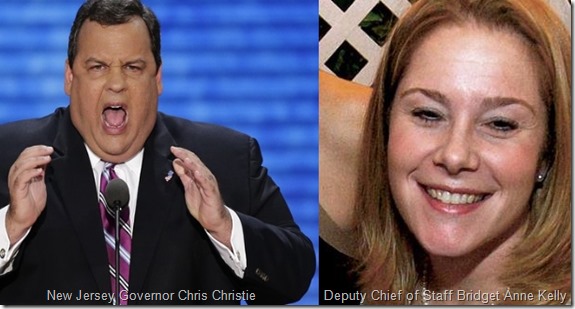 Chris Christie gave a lengthy press conference on the closure of the busiest bridge in the country. He is finally taking responsibility for the George Washington bridge debacle. Or is he?
Chris Christie is claiming that he had no clue that lanes on the George Washington Bridge were closed because of a vendetta against Fort Lee Mayor Mark Sokolich. He claims that Bridget Anne Kelly, his deputy chief of staff lied to him. He claimed she had told him she knew nothing about the incident. He said he fired here within 24 hours of learning she lied to him.
The lane closures delayed Emergency responders due to the traffic gridlock that it caused. One of these delays affected a 91 year old woman who was unconscious and ultimately died.
In the governor's interview he claimed he was appalled by the callous indifference of his staff. Does he forget the callous indifference he has shown to teachers or anyone asking him questions that make him uncomfortable? He claimed he was embarrassed and humiliated. He should be.
NJ State Senator Barbara Buono says Chris Christie runs a paramilitary organization.
It is doubtful that Bridget Anne Kelly was the ultimate authority to orchestrate the George Washington Bridge scandal (Bridgegate). New Jersey State Senator Barbara Buono who ran against Governor Chris Christie does not think so.
"I was convinced that Christie was directing it," said State Senator Barbara Buono. "You know you just get to know how he operates. He runs a paramilitary organization, very strict discipline. People don't sneeze or go to the bathroom without asking Christie's permission. … All of these people knew, all of these people orchestrated and took part in the cover up of Bridgegate. Yet unbeknownst to the governor this was not going on. And I find that strains credulity to say the least. And these emails leave no scintilla of doubt in anyone's mind I don't think."
See select snippets from the Barbara Buono interview with Andrea Mitchell.
Near the end, Andrea Mitchell like many traditional media journalist continue to be Chris Christie apologists. Barbara Buono did not allow that to cause her to let up.
Traditional Media Falling For Christies Kool Aid
He can survive this long term if everything he is saying today is 100 percent true about what and when he knew. #christie

— Chuck Todd (@chucktodd) January 9, 2014
Christie's mostly getting this right, I think. Question is whether there are more acts like this that will come out. http://t.co/7CzP67XHMs

— Ezra Klein (@ezraklein) January 9, 2014
.@MarkHalperin on @GovChristie: "If there's no new facts, today was the beginning of putting this to rest." (1/2) –#AMR staff

— Andrea Mitchell (@mitchellreports) January 9, 2014
---

LIKE My Facebook Page – Visit My Blog: EgbertoWillies.com
Follow @EgbertoWillies