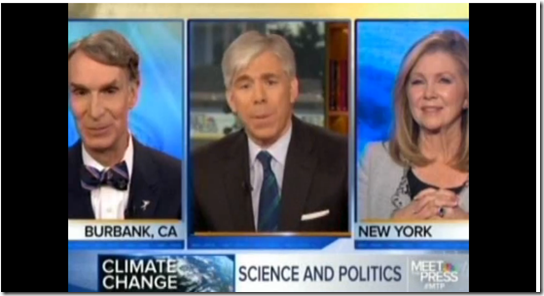 The Science  Guy Bill Nye scolded Congresswoman Marsha Blackburn (R-TN) on Meet the Press with David Gregory. Rep. Marsha Blackburn attempted to raise doubts about the consensus that in fact humans are effecting climate change.
Rep. Marsha Blackburn started out by saying the following.
Well, I think that what you have to do is look at what that warming is. And when you look at the fact that we have gone from 320 parts per million 0.032, to 0.040 four hundred parts per million, what you do is realize it's very slight. Now, there is not consensus and you can look at the latest IPCC Report and look at Doctor Lindzen from MIT. His rejection of that or Judith Curry who recently from Georgia Tech. There is not consensus there.
David Gregory surprisingly got somewhat of a spine and immediately challenged her claim. Normally he allows the Right to use his platform to misinform Americans.
Well, hold on. I just have to interrupt you. I'm sorry, congresswoman. Let me just interrupt you because it's not you can pick out particular skeptics, but you can't really say, can you, that the hundreds of scientists around the world who have looked at this have gotten together and conspired to manipulate data, and that industry folks like PG&E– here's PG&E's website, it's current website, this is a natural gas producer in Northern California, saying, "As a provider of gas and electricity to millions of Californians and an emitter of greenhouse gases, PG&E is keenly aware of its responsibility to both manage its emissions and work constructively to advance policies that put our state and the country on a cost-effective path toward a low-carbon economy." So the issue is what actions are taken and will they really work?
Rep. Marsha Blackburn disingenuously responded as follows.
Let's say everything that Bill says is wrong is wrong. Let's just say that. Then you say what are you going to do about it? What would the policy be? And will that policy have an impact? Now, even Director McCarthy from the EPA in answering questions from Congressman Pompeo before our committee, said reaching all of the 26 U.S. goals is not going to have an impact globally. And, David, what we have to look at is the fact that you don't make good laws, sustainable laws when you're making them on hypotheses or theories or unproven sciences.
Bill Nye would not let her get away with her corporate driven anti-science stance. He challenged her poor and disingenuous math. He challenged her attempt to instill doubt about climate change and consensus. Bill Nye challenged her as a politician to lead.
Once again, the congresswoman is trying to introduce doubt, and doubt in the whole idea of climate change. So what I would encourage everybody to do is back up and let's agree on the facts. Would you say that the Antarctic has less ice than it used to? When you said you asserted, congresswoman, that a change from 320 to 400 parts per million is insignificant? My goodness, that's– that's 30 percent. I mean that's an enormous change, and it's changing the world. And that's just over the last few decades. You go back to 1750 with the invention of the steam engine– I mean, everybody's been over this a lot– but it's gone from 250 to 400. There is no– there is no debate in the scientific community. And I can encourage the congresswoman to really look at the facts. You are a leader. We need you to change things, not deny what's happening. I just want to say this weather event is important.
The Science Guy Bill Nye confronts Rep. Marsha Blackburn (R-TN)
When I saw who the guests were on Meet The Press, I was concerned. Even though Bill Nye is an engineer and self-made scientist, I knew Marsha Blackburn would be perfect with her talking points. I would have preferred a climatologist. I assumed David Gregory as he normally does would give the Right the entire platform to misinform. Thankfully I was wrong. Both David Gregory and Bill Nye stepped  up to the plate.  They successfully poked holes in her choreography, fake intelligence.
---

LIKE My Facebook Page – Visit My Blog: EgbertoWillies.com
Follow @EgbertoWillies