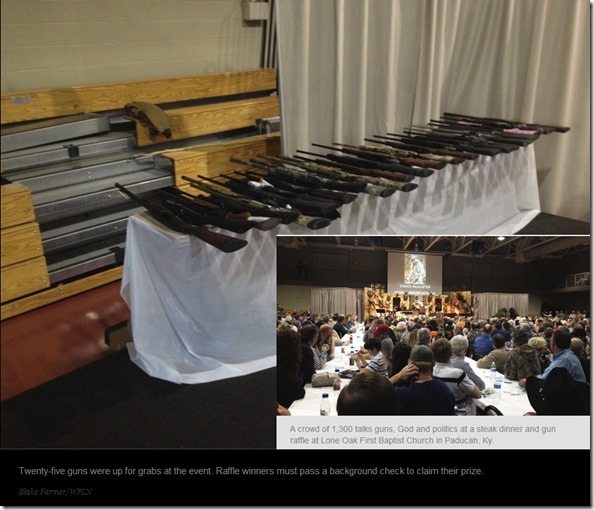 Many Americans cannot seem to understand why Red America behave as they do. Why are they so infatuated with guns at all cost? Why do they have such a devotion to inconsistent moral values?
This event at Lone Oak First Baptist Church in Paducah, Kentucky speaks volumes. It turns out the church used guns and steak to lure people (customers) to the church.
There's nothing new about gun raffles in Kentucky, even at a church. Last year, there were 50 events like this one in the state. The Kentucky Baptist Convention says it's a surefire way to get new people through church doors.

Sunday school teacher David Keele says everyone he knows has a gun. The church giveaways, he says, are a rallying point.
David Keele claims the goal is to do two things. The primary thing is Jesus. But they will also talk about the Second Amendment to bear arms. Of course they made the event less intimidating to the not so active Christians.
Inside during the steak dinner, the church band ditched the hymnal for the evening and played "Mustang Sally" instead. These are not worship services. They're meant to be unintimidating to nonbelievers, although it turns out most of the people here already go to church, if not this one.
Chuck McAlister, a self-described master storyteller and former host of an outdoor TV show was the master on stage. He was hired by the Southern Baptists in Kentucky as a full evangelist as the membership has declined. The little church was packed with 1,300 area residents. He used the credibility given by the church venue to get his message out.
Along the way, McAlister gets in political jabs.

"There's no government on the face of this earth that has the right to take this gun from me," he says to thunderous applause.
He knew the message would resonate. Most importantly is that his presence and message were intentional.
"If simply offering them an opportunity to win a gun allows them to come into the doors of the church and to hear that the church has a message that's relevant to their lives, there's absolutely nothing wrong with that," he says.
Chuck McAlister appeals to those who have been conditioned to be gun fanatics with guns. He reinforces their uncompromising values on guns. An observer on the outside,Cesar Machaen, had the most prescient statement,
"Real guns? I don't know what to say," says Machaen, who was raised Catholic. "You go to church for peace, not to kill or fight."
Free guns, Free Steak, & Bibles?
The church is an institution that garners respect from just about every ideology. If Joe Scarborough can see the light these leaders can as well. Church leaders are responsible for guiding their followers. Followers reflect their leaders. The guns were free. The bibles had to be purchased. It is evident that 1300 followers got a message that does not serve the country well.
---

LIKE My Facebook Page – Visit My Blog: EgbertoWillies.com
Follow @EgbertoWillies