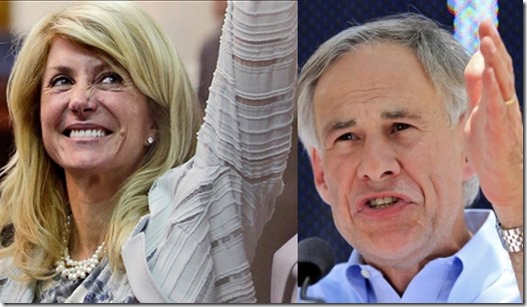 The reality is that giving his record and the record of all statewide Republicans, keeping them all on the defensive should be short order. If Wendy Davis and all Democrats run a populist campaign, they will win. If Democrats go into every neighborhood they will win. They will give non-voting Texans a reason to reengage and vote.
FOR IMMEDIATE RELEASE
March 14, 2014
Contact: Rebecca Acuña (956) 206-5853
Wendy R. Davis for Governor Campaign

---

Man, It Stunk to be Greg Abbott this Week

Over the past five days, Greg Abbott and his team struggled to defend his opposition to equal pay for equal work legislation.

In other words, it stunk to be Greg Abbott this week.

Let's do a recap, shall we?

On Sunday, Greg Abbott refused to support the Texas Texas Equal Pay Act on WFAA TV.

On Monday, journalists across the state reported that Texans were outraged that Abbott opposes equal pay for equal work for all hardworking families.

On Tuesday, we found out that Abbott opposed the equal pay for equal work so much that he actually fought against it in the courtroom.

On Wednesday, we discovered that Abbott accepted a 62% pay raise the same time he was fighting against equal pay as Attorney General.

On Thursday, Wayne Slater at the Dallas Morning News highlighted Greg Abbott's potentially unethical behavior at the Cancer Prevention Research Institute of Texas (CPRIT).   While a member of the oversight board, Greg Abbott's largest contributors received tens of millions of taxpayer dollars in contracts with almost no oversight or accountability.

Here's just some of the coverage:

Davis keeps up equal pay attack on Abbott

Houston Chronicle

"Davis called Abbott hypocritical for taking pay raises then later fighting that case. She noted that since 2005, Abbott has accepted two salary increases passed by the state legislature that raised his annual pay from $92,000 to $150,000.  'It is hypocritical for General Abbott take pay raises himself, then to argue in court that hard working Texans don't deserve pay for that hard work,' Davis said."

Greg Abbott Continues His Lack of Support for the Women of Texas

Lubbock Avalanche-Journal

"With missteps and faux pas galore, Greg Abbott's campaign is looking more and more like a replay of Clayton Williams. Remember Williams' line back in 1990 when he suggested that victims of rape should 'just relax and enjoy it.'"

Christy Hoppe: Governor's race storms out of gate with skirmish over women's pay

Dallas Morning News

"Monday's dust-up involves a bill that Davis wrote last year to make it easier to bring a pay-discrimination lawsuit in state courts… So when Abbott declined to say on WFAA-TV (Channel 8) whether he also would have vetoed the bill, Davis and a slew of Democratic organizations pounced."

Equal Pay Issue Rockets into Governor's Race

WOAI
"When asked about the proposal by a Dallas TV station, Abbott refused to give a direct answer…The comments show the importance to the Davis campaign of peeling off suburban women who have been the bedrock of the Republican ascendancy in Texas for the past two decades."

Davis Accuses Abbott Of Dodging Equal Pay For Women Question

Texas Public Radio
"But Wendy Davis has taken issue with that response, saying that her Republican opponent didn't answer the question, which was about whether Abbott would've vetoed the same bill."

Wendy Davis, friends pounce on women's pay issue

Dallas Morning News
"…governor nominee Greg Abbott was asked if he would also have vetoed the bill on WFAA's Inside Texas Politics on Sunday. Abbott didn't answer the question directly, but indicated that he thought current state laws are sufficient to protect against pay discrimination."

Wendy Davis accuses Greg Abbott of 'dodging' on equal pay

San Antonio Express-News
"Abbott has voiced support for equal pay but when asked about the state version of the federal Lilly Ledbetter law – named after a woman who fought pay discrimination – he hasn't said directly whether he would have axed it."

Davis pushes Abbott on issue of pay equality

Houston Chronicle
"Perry, however, vetoed the measure, saying it duplicated federal law and that 'Texas' commitment to smart regulations and fair courts is a large part of why we continue to lead the nation in job creation'… The Abbott campaign did not immediately respond to a request for comment about the lawsuit and Davis' statement."

Your Texas governor's race questions answered

MSNBC
"However, if it were reinforced by another gender-related controversy, that might change. So watch for Davis and Democrats to do all they can to make that happen. Just a few minutes ago, for instance, I got a press release attacking Abbott for not taking a stance on a bill mandating equal pay for women."

Greg Abbott's Past Court Fight Against Equal Pay
Houston Press
In 2012, Greg Abbott's office actually fought against equal pay in a court case in which he defended Prairie View A&M University in a lawsuit by a professor who faced pay discrimination.
---

LIKE My Facebook Page – Visit My Blog: EgbertoWillies.com
Follow @EgbertoWillies