Andrew Sullivan says Obama a much greater President than polls would  suggest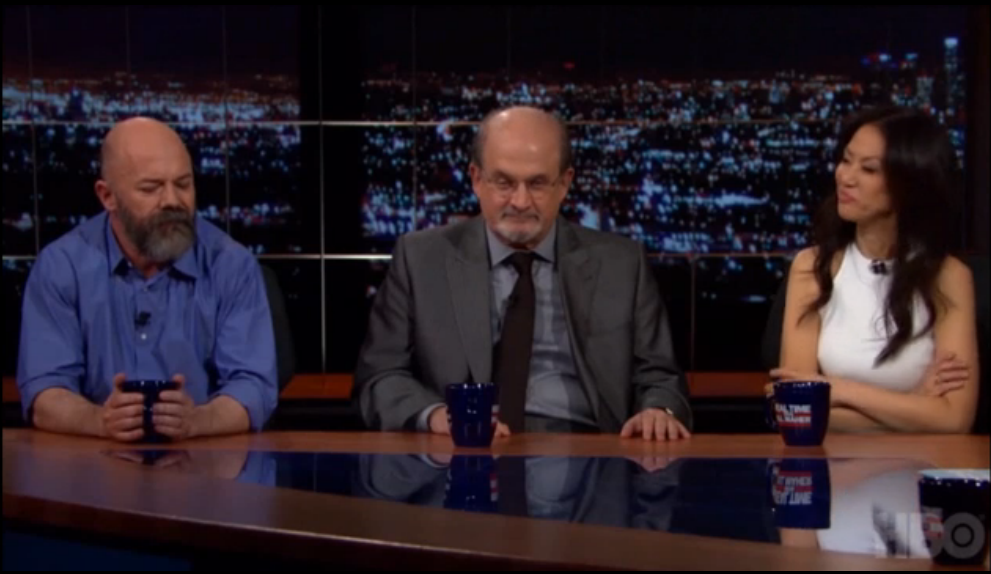 Real Time With Bill Maher's Overtime last night was longer than normal. It was also more substantive and confrontational than normal. It covered religion, the president, the Big Bang theory, Iraq, Afghanistan, and much more.
The guests that appeared on Overtime were author of The Satanic Verses: A Novel Salmon Rushdie, author of Countdown: Our Last, Best Hope for a Future on Earth? Alan Weisman, Seth MacFarlane, author of The Triple Package: How Three Unlikely Traits Explain the Rise and Fall of Cultural Groups in America tiger mom Amy Chua, and conservative blogger Andrew Sullivan.
Bill Maher allows Real Time viewers to submit questions over the Internet during the broadcast. Immediately after the broadcast he allows his guests to answer a select few. One of the questions asked to name the favorite politician from a party one generally does not associate with. Conservative blogger Andrew Sullivan first said he did not have a favorite politician. Upon further reflection he said the following.
Andrew Sullivan: You know what. Maybe Obama. …

Bill Maher: Obama has a way of like, he loses you and then he does something like. I saw him a couple of weeks ago talking to those black kids at the Whitehouse. And he was like so amazingly honest when he said that thing about, 'When I was young I got high. It was f$$ing glitz'. And it was so raw and real. And he is like Michael Corleone in Godfather III. He pulls me back in.

Andrew Sullivan: I think he is a much greater President than polls currently suggest.

Bill Maher: History will say.

Andrew Sullivan: I really do.

Bill Maher: Yes. Because, first of all he stopped the depression. …

Andrew Sullivan: We can now actually have a comparative rating of that. We can look at every other country that went through the same thing and see where we are and where they are. And we are currently the best. We even beat Germany out of it. And that was not a given.

Bill Maher: Can you imagine what he would have been able to do if he had like one degree of cooperation?

Andrew Sullivan: What is amazing to me is what he has done without it. He is grinding out, with brutal opposition, grinding out the possibility of universal healthcare which is an epochal event in American social policy. He is also grinding out a saner post imperial foreign policy. That I think back basically will have to be part of this country's DNA. He has presided over a civil rights revolution with gay rights in a way that no one quite saw coming.

Bill Maher: He is not exactly getting rid of the American empire. I don't know where you are getting that from.

Andrew Sullivan: He is a pragmatist. But no, he got us out of Afghanistan. He is getting us out of Iraq. … He is a realist.
Check out the video snippet below.
---

LIKE My Facebook Page – Visit My Blog: EgbertoWillies.com
Follow @EgbertoWillies