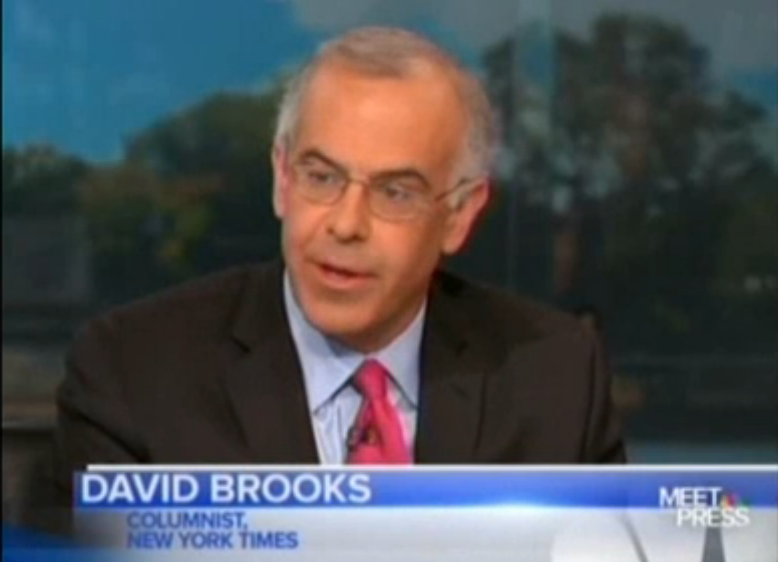 President Obama's handling of the Ukraine crisis have been taking a pounding from the GOP since it began. Unfortunately when asked what they would do, it is not much different than what the president is doing.
At last there is a conservative not criticizing the president on his handling of Ukraine. At last there is a conservative that is not pushing the president to precipitate a direction that would be hard to return from; especially since the US is partially complicit in its genesis.
David Brooks, the conservative New York Times columnist had the following exchange with David Gregory.
David Gregory: What does it take for the U.S. to regain the upper hand in this fight with Vladimir Putin, David Brooks?

David Brooks: Fear. I think President Obama has been quite good, quite aggressive. He's been out front with the sanctions. The sanctions are beginning to hurt. But there are two things the sanctions are never going to do. One is overcome the Russian mentality.

They're thinking, "We handled Stalingrad. We had people starving in the streets and we still won. So we can endure a little economic suffering." Second, the psychology of fear. Who do you fear? I think the president has been very aggressive, predictable, especially given our alliances. But does Vladimir Putin fear Barack Obama?

And to create that climate of fear, you have to do something really aggressive. Something that will get Putin back on his heels. And frankly, I think if this thing continues to escalate, I can give you an idea of arming Ukraine, giving them some actual weapons to have a good, deterrent effect, is someplace to get ahead.
David Gregory then acknowledged the reality that the last thing the United States wants is a shooting war. A shooting war would have the possibility of giving the Russians an excuse to go further. It would likely escalate as well to an all-out civil war. Worse, it could escalate to places no one wants to think about.
Andrea Mitchell made it clear that while Republicans have been criticizing President Obama for inaction, the Republican Congress has been unable to pass a bill to provide assistance to Ukraine. She said it sends a terrible signal.
Does Ukraine affect the president's domestic agenda?
Later David Gregory implies that Ukraine would affect the president's domestic leadership and focus. Michael Nutter made it clear this president can do many more things than one thing at a time.
---

LIKE My Facebook Page – Visit My Blog: EgbertoWillies.com
Follow @EgbertoWillies