Obamacare Tops 6 Million Enrolled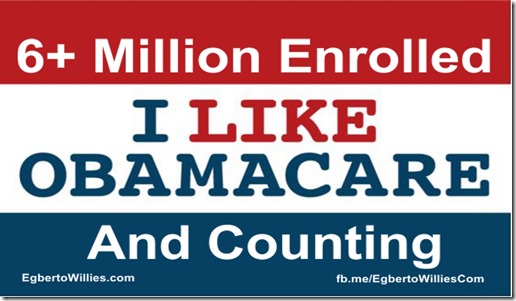 There is still time for your neighbors, friends, family, and your fellow citizens to get the healthcare they need. Encourage them to what is best for their financial and healthcare well-being. Encourage them to visit healthcare.gov or call (800)318-2596.
Many thought Obamacare would crater given the inept roll out of healthcare.gov and a continuous barrage of lying ads about Obamacare. It did not. It will not. President Obama said it would be fixed. It is fixed and working well. It is working so well that as reported by Reuters below, over 6 million people have enrolled with 4 days left.
Obamacare enrollment tops six million as deadline looms: White House

(Reuters) – More than 6 million people have now signed up for private insurance plans under President Barack Obama's signature healthcare law known as Obamacare, reflecting a surge in enrollments days before the March 31 deadline, the White House said on Thursday.

The milestone gives the White House some ammunition to use against Republican critics, who have described the program as a flop in the build-up to midterm congressional campaigns in November, when Democratic control of the U.S. Senate is at stake.

Only 10 days ago, the administration had pegged enrollment at more than 5 million people, and enlisted celebrities and top government officials to try to persuade more uninsured people – particularly the young and healthy – to sign up.

The last-minute boost has exceeded the nonpartisan Congressional Budget Office's estimate that 6 million people would sign up in the program's first year, down from earlier expectations of 7 million enrollees because of problems with websites used for shopping for insurance.
This should be a great American celebration. Millions of uninsured people's lives will be saved because of this law, imperfect as it is. One wonders when the lying will stop. One wonders when those who have so opposed this law will begin to engage and make it better.
Do you think the Obamacare enrollment will reach 7 million? There is a good chance it will. At last there is a partial win for the poor and the working middle class.
---

LIKE My Facebook Page – Visit My Blog: EgbertoWillies.com
Follow @EgbertoWillies