Unarmed teenager Michael Brown's Killer, Officer Darren Wilson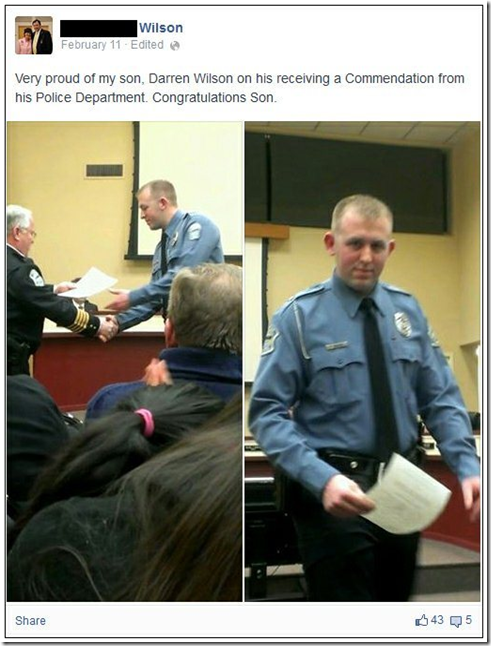 Finally a picture of the killer of unarmed teenager Michael Brown, Ferguson Missouri Officer Darren Wilson has surfaced. It was found on the John Wilson's, the father of  Darren Wilson, Facebook newsfeed. Yahoo News reports the following.
Six months before he shot and killed an unarmed teenager, police Officer Darren Wilson earned a commendation for his "extraordinary effort in the line of duty."

Yahoo News confirmed the award through the February 11 Ferguson City Council meeting minutes and photos Wilson's father posted to his Facebook page.

"Very proud of my son, Darren Wilson on his receiving a Commendation from his Police Department," John Wilson wrote on February 11. "Congratulations Son." …

Details of what the 28-year-old officer did to earn the commendation weren't immediately available. (The Facebook page for the officer's father appears to have been deactivated shortly after Yahoo News first published this story on Saturday morning.) …

Four days ago John Wilson turned to Facebook for support without mentioning his son by name.

"Dear FB friends, Our family is in need for prayers to be sent up for a family member," John Wilson wrote. "Circumstances do not allow for us to say anything further. Please pray with our family in mind. Put a covering of protection over our family member please."
The question is why this killer has not yet been arrested. There is enough eye witness testimony that he executed Michael Brown while he was surrendering.
This poignant exposé is a must watch piece from Melissa Harris-Perry on the outright killing of black men by police over the years. It will be impossible to hide behind excuses after one sees the pattern.
One hopes the protests continues and cripples the city until justice is exacted. Otherwise the precedent of black men's life being less than will continue unabated.
(h/t NewsOne)