Governor of Texas Rick Perry surrenders to authorities in Austin, Texas where he will be booked. He was indicted last week and is facing charges of coercion and official oppression.
Rick Perry came out defiant amid a flurry of supporters in a well-staged event.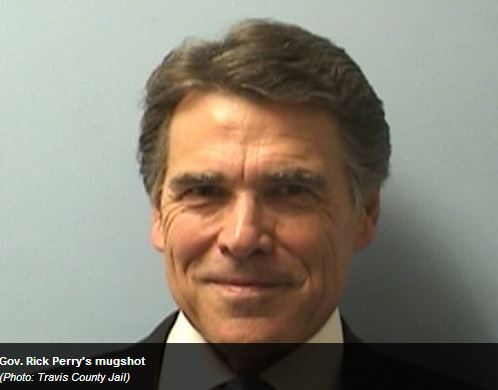 According to MailOnline,
Texas Gov. Rick Perry wasn't alone when he arrived at an Austin courthouse on Tuesday: Dozens of supporters showed up to cheer him on, thanks to an impromptu Facebook campaign that turned his criminal surrender into a campaign rally.

'This indictment is fundamentally a political act that seeks to achieve at the courthouse what could not e achieved at the ballot box,' he told the crowd after he was booked and fingerprinted.

A grand jury charged Perry, a Republican, with two abuse-of-power felonies on Friday in connection with his 2013 veto of $7.5 million in state funding earmarked for the Texas public integrity prosecution unit, run by Democratic District Attorney Rosemary Lehmberg.

The prosecutor was sentenced to 45 days in jail last year for DUI after she was abusive to her jailers. Police ended up strapping her into a 'restraint chair' to protect themselves as they booked her.

Perry faced cameras on Tuesday – both from journalists and the Travis County officer in charge of mugshots. On his way in and out of the courthouse, partisans shouted 'Perry! Perry!'
This will likely help Rick Perry with the Right Wing while running for President. It will ultimately  work against him  deeper in the primary when the realities of Governor Rick Perry's corruption is made evident.