One hopes you are having or have had a happy Labor Day barbecuing with friends and family. Enjoy today but going forward it is imperative that one fights to reestablish the power of the American worker. The American worker is the one responsible for the economic vibrancy of America. Wealthy capitalist Nick Hanauer gave a wonderful TED Talk detailing this reality.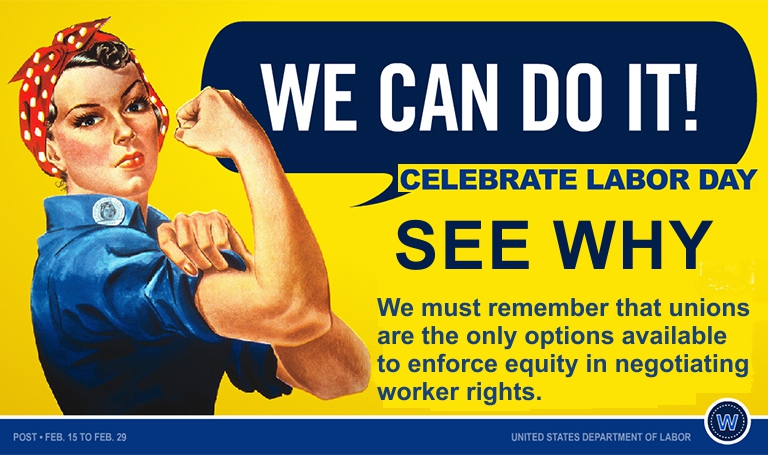 Many are attempting to malign unions in order to strip power from workers. Those acquiescing to the  false narrative are ultimately responsible for the decline in wages and the destruction of the middle class.
Liberal values were instrumental in the development of the rights for every American worker. Absent these values there would be no middle class. The erosion of the union over time is directly  proportional to the decline in wages and the middle class over the last 30+ years.
To be clear, it is imperative that we all understand why we must support unions. Here are 38 reasons why you should thank the unions created within America over the years.  This is why we must encourage its rebirth.
Here Are The Reasons to thank worker unions:
Breaks at Work, including a Lunch Break not offered prior by Many
Weekends Off, Generally for the Masses
Pensions
Social Security
Unemployment Insurance
Worker's Compensation (Worker's Comp)
Holiday Pay
Sick Leave
Military Leave
Paid Vacation
FMLA – Family Medical Leave of Absence
Pregnancy and Parental Leave
Child Labor Laws
Laws tended to End Sweatshops in the United States
Workplace Safety Standards and Regulations
Minimum Wage
Collective Bargaining Rights for Employees
Health Care Insurance coverage collectively thru your Employer
Dental Insurance coverage collectively thru your Employer  (Not Everyone Offers, But Many Actually Do offer Dental)
Life Insurance coverage collectively thru your Employer  (Not Everyone Offers, But Many Actually Do offer Life)
Vision Insurance coverage collectively thru your Employer  (Not Everyone Offers, But Many Actually Do offer Vision)
The Right to Strike
Public Education for Children
Civil Rights Act/Title VII (Prohibits Employer Discrimination)
Occupational Safety & Health Act (OSHA)
Attained the 8-Hour Work Day as a Standard Day for Work
The 40 Hour Work Week became the Standard Work Week
Overtime Pay for General Employees  (Normally past 40 Hours of Work within a Week)
Privacy Rights
Wrongful Termination Laws
Veteran's Employment and Training Services (VETS)
Compensation increases and Evaluations (Raises)
Whistleblower Protection Laws
Employee Polygraph Protect Act (Prohibits Employer from using a lie detector test on an employee)
Equal Pay Acts of 1963 & 2011 (Requires employers pay men and women equally for the same amount of work)
Sexual Harassment Laws
Americans With Disabilities Act (ADA)
Age Discrimination Employment Act of 1967