Chris Hayes calls out media for refusal to provide real news
Sadly some of the best and most accurate news we get come from those that do not have a large enough platform to move minds. For this reasons we must magnify the reach of those who are providing news we all need to hear.
Chris Hayes is a dependable and trusted journalist that over time have bucked many to ensure prescient news gets out. He generally brings knowledgeable fact based professionals to his show that aids as well. This piece is one of those that must be shared. Jeb Bush and his GOP presidential cohort are attempting to scare Americans into believing that the social safety net (Social Security & Medicare) must be cut.
"We have got some great news today that you basically won't be hearing anywhere else," said Chris Hayes. "Great news. Particularly great news for Obamacare doesn't seem to exist because the only news you get about Obamacare or government spending or so called entitlements is scary headlines about runaway cost and when they are going to bankrupt the entire country. But when things are going better than expected, crickets. So here it is."
Hayes then reveals the news the traditional mainstream media completely ignored.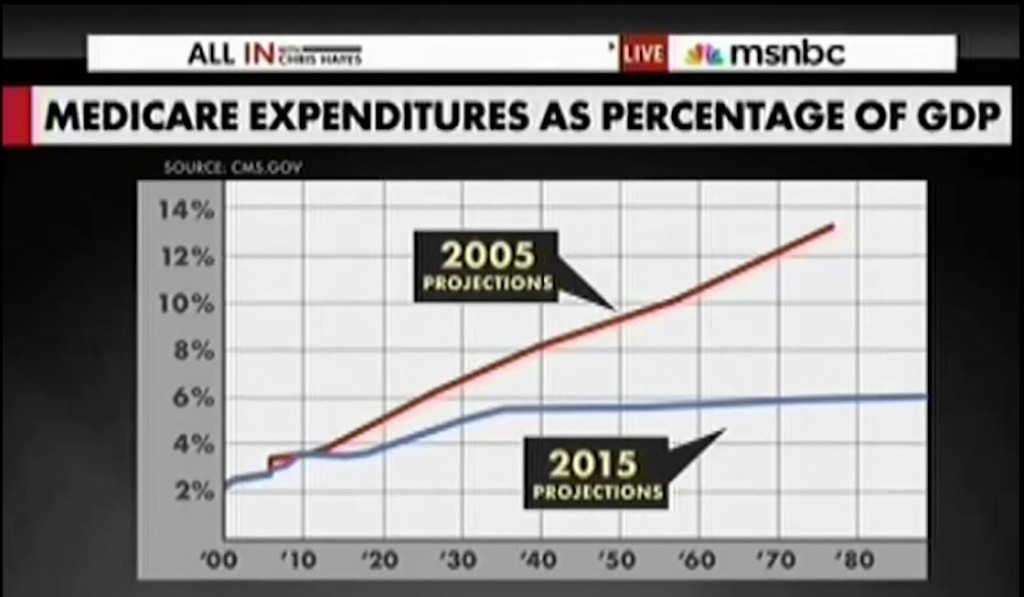 "The most important long term driver of the federal government's cost is Medicare," Chris Hayes said. "If Medicare and health care cost  continue to grow at insane rates year over year, we are basically fiscally screwed. If its cost curve comes down considerably, we are fine. Literally those are the stakes. Screwed, fine, depending on how those curves go. And here is what's happened. The blue line in this chart is the projection for Medicare as a percentage of the economy, the GDP and it shows Medicare cost flattening out at about 6% of GDP all the way through 2080 according to the latest trustee's report on the financial health of Medicare. Look at the red line. That was the projection back in 2005 which showed Medicare climbing and climbing and climbing through 2070 at a rate more than twice as bad. In other words Medicare is now projected to cost half as much, half as much over the coming decades. This is based on a mountain of information projection some of which could of course change like the actual cost of future medical procedures. But you get the picture. The primary new factor between then and now is Obamacare and the effect it may be having on slowing runaway medical cost. So the sky is not falling in other words. But don't expect to hear that anywhere else."
American's are not being well served by our traditional mainstream media. Their misinformation, refusal to report accurate news, and their bias towards the plutocracy is a clear and present danger to the poor and middle-class. Be the media and do your part in informing your family, friends, co-workers, and neighbors. Be silent no more.