President Obama headed to Cuba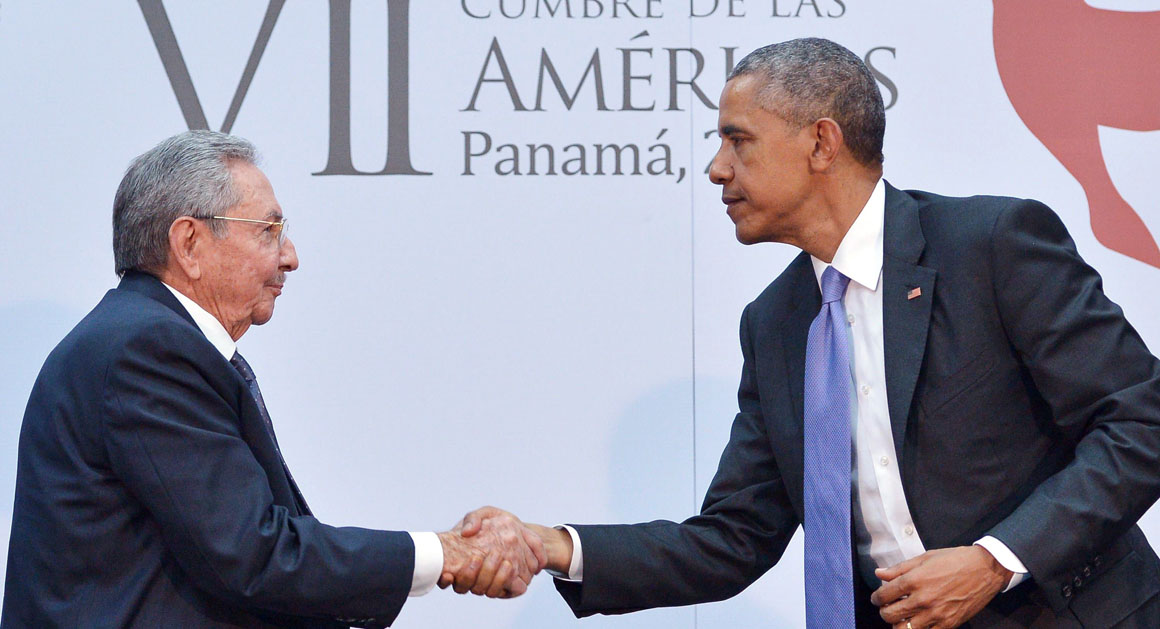 ---
This article titled "White House announces that Obama will visit Cuba in March" was written by David Smith in Washington, for The Guardian on Thursday 18th February 2016 19.16 UTC
Barack Obama will end decades of cold war hostility and mistrust by visiting Cuba in March, a move set to go down as one of the foreign policy milestones of his presidency.
"Next month, I'll travel to Cuba to advance our progress and efforts that can improve the lives of the Cuban people," Obama wrote on Twitter on Thursday.
He will meet the Cuban president, Raúl Castro, but not his 89-year-old brother Fidel, who after the 1959 communist revolution became one of Washington's most notorious bogeymen and a target for numerous assassination plots by the CIA. As Fidel's health declined, Raúl took over the presidency and was officially elected in 2008.
Ben Rhodes, Obama's deputy national security adviser, told reporters at the White House: "I wouldn't expect him to meet with Fidel Castro. Raúl Castro is the president of Cuba. He'll certainly meet with President Castro."
Obama will also meet civil society activists, entrepreneurs and "Cubans from different walks of life", Rhodes added, and a historic speech to the Cuban people is expected. "I certainly think he would want to look for some opportunity to address the Cuban people."
Obama has promised to push hard for lasting accomplishments in his final year in office and defy traditional perceptions of a "lame duck" presidency. Normalising relations with Cuba, and the nuclear deal with Iran, are likely to figure in the first paragraph of any analysis of his foreign policy legacy.
Obama has argued that the policy of isolating the island, just 90 miles south of Florida, has been a failure and, since publicly shaking Raúl Castro's hand at a memorial service for Nelson Mandela in 2013, has been seeking rapprochement instead. The symbolism of a US president setting foot in Havana for the first time in 88 years will be hard to overstate. But it will also provide election year ammunition for Republicans who were quick to criticise the trip as legitimising the Castro brothers' regime.
Obama acknowledged that the US still has concerns about human rights in Cuba. "We still have differences with the Cuban government that I will raise directly. America will always stand for human rights around the world."
Rhodes added that there have been gains, such as improved internet access for citizens, but there is still a long way to go. "Look, I don't think we will be satisfied to date and frankly we're always going to have differences with this government because they have a different political system. At the same time, we do think there are steps they can take. They can improve conditions for the Cuban people and be part of the evolution of the island."
Democracy and human rights in Myanmar had benefited from Obama going there, he added. "We believe not going and isolating Cuba doesn't serve to advance those issues. We will be in a better position to serve human rights and serve those issues by engaging … The way to keep this policy forward is to keep leaning forward."
Travel and commerce will benefit the Cuban people, he argued, noting that Airbnb is now operating in Cuba. "This is their fastest-growing market."
Rhodes said he also expected the issue of the naval base at Guantánamo Bay, which the US holds on a permanent lease and is now infamous for imprisoning terrorist suspects without trial, to be brought up by Cuban officials. "They are insistent that our presence there is not legitimate and the facility be returned to them. That is not on the table as part of our discussion. I'm sure they will raise it. It continues to be an issue of concern to them."
Obama will be joined by the first lady, Michelle Obama, on the trip on 21 and 22 March. He will be the first incumbent American president to visit Cuba since Calvin Coolidge in 1928. Rhodes said: "President Coolidge travelled to Cuba on a US battleship, so this will be a very different kind of visit."
Obama and Raúl Castro announced in 2014 that they had held secret negotiations and were prepared to begin restoring full diplomatic relations. Embassies reopened in Havana and Washington, the US removed Cuba from its list of state sponsors of terrorism, and the two countries took steps to increase travel and business exchanges. Earlier this week, they struck an agreement that will restore direct flights between the countries for the first time in more than 50 years.
Obama has implemented numerous changes using executive powers but must persuade Congress to lift the US trade embargo, a tough challenge in the face of Republican opposition. His planned visit was condemned by Republican candidates for president. Ted Cruz, whose father came from Cuba in 1957, said: "I think it's a real mistake. I think the president instead ought to be pushing for a free Cuba."
By going to Cuba now, Obama will "essentially act as an apologist", Cruz added.
Fellow candidate Marco Rubio, also of Cuban descent, said he would not visit as president. "Not if it's not a free Cuba," he insisted. "The Cuban government remains as oppressive as ever."
But Republican Senator Jeff Flake from Arizona said the Obama visit could help open Cuba up to the world. "For Cubans accustomed to watching their government sputter down the last mile of socialism in a 57 Chevy, imagine what they'll think when they see Air Force One," Flake said. "Just think of the progress that can come from one day allowing all freedom-loving Americans to travel to Cuba."
But the announcement was welcomed in Havana. Jorge Félix, a home painter, told Reuters: "Peace reigns in this hemisphere. These are two countries who have confronted each other for 50-something years, and on this occasion the visit of the US president to Cuba is reason for happiness and rejoicing."
The Cuban foreign trade minister, Rodrigo Malmierca, on a visit to Washington, told the Associated Press: "The president will be welcomed."
Obama's brief stop will be combined with a visit to Argentina on 23 and 24 March, where he will meet the new Argentinian president, Mauricio Macri.
guardian.co.uk © Guardian News & Media Limited 2010
Published via the Guardian News Feed plugin for WordPress.