Protests are great but a sustainable progressive revolution requires much more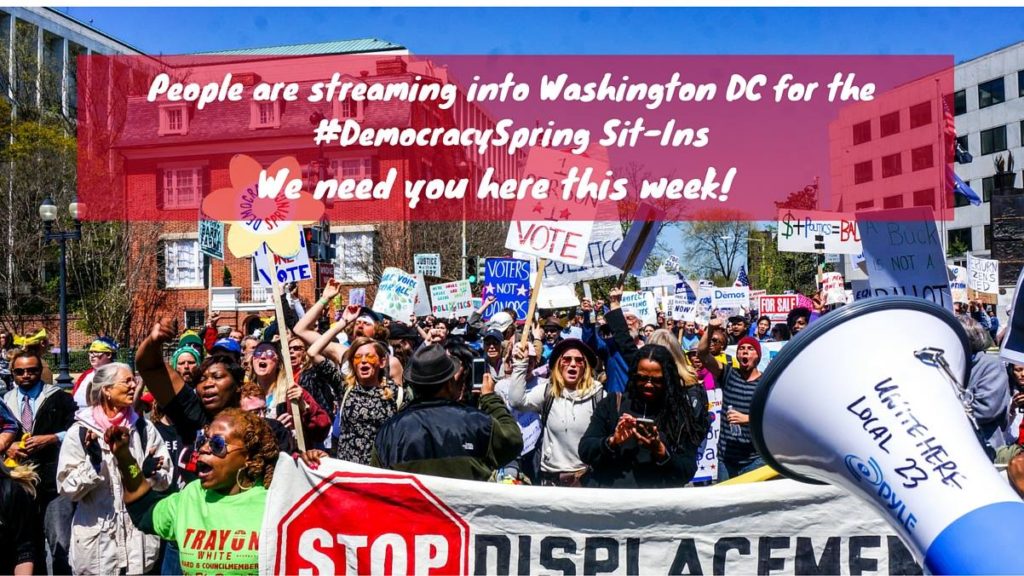 Last month a few thousand activists and everyday Americans descended on Washington DC in an action called Democracy Spring. It consisted of a ten-day 140-mile walk from Philadelphia to Washington. It culminated with eight days of civil disobedience at the US Capitol — "either end the corruption of big money in politics and ensure free and fair elections or arrest hundreds of people, day after day, simply for demanding an equal voice."
I interviewed a Democracy Spring participant about this action during the event, the 'Lady Liberty' who got arrested. She was energized by the demonstrations but noted that this is just a tiny part of what needed to be done to take back our democracy.
It was very disappointed but expected that this Democracy Spring got little coverage. What is more disappointing is that the attendance did not match the buildup. Many expected more people given the number of activist groups and prominent individuals who signed on. To clear, had a fraction of Right Wing activists put on such an event, the media coverage would be incessant.
The Democracy Spring page characterized the success of the political protest as follows.
We arrived in DC on April 11th, we gave Congress a simple choice: either take immediate action to end the corruption of big money in politics and ensure the right to vote or arrest over 1,300 Americans simply for demanding an equal voice in government. Their refusal to act and their readiness to condemn so many exposes the depth of corruption that pervades our political system.

The historic march and Capitol sit-ins this April inspired millions of people across the country. But that was just a beginning. From here, we need to take the fight home to states across the union, challenging candidates, and elected officials to take a side, lifting up those who declare their support for fundamental reforms to fix or democracy, and exposing those who refuse to do so as defenders of the corrupt status quo. We will disrupt their fundraisers, their debates, their press conferences, and ultimately, their chances at the polls.

We have been able to focus the nation's attention as never before on the urgency of this crisis, the existence of solutions to it, and the strength of the popular demand to enact them. Now, we will make this election a referendum on whether our democracy should belong to the People as a whole or to the billionaire class alone.

That's a referendum we can win, setting the stage to achieve fundamental reform that will give us — finally — the democracy for all we were promised.
The characterization is correct but incomplete. Activists justifiably protest for change. The effectiveness of that protest is only as good as the larger body supporting it. Media plays a significant role in this in acquiring support or identifying support. A small number of TEA Party activists in that sense gets to influence much more so than thousands of progressive activists.
Progressives must add more components to the repertoire. What are those components? Education and pragmatism.
A good example of that is the Move to Amend's Movement Education Program. It builds on the concept 'you can't know where you're going until you know where you've been' along with material that details successful movements.
Last week Move to Amend had its Inaugural National Leadership Summit. Participants learned about social media. They learned about the 'We the People Amendment.' They learned about all types of oppression, its manifestations, and how to talk about it. They reconstructed the reasons why the battle against the corporatocracy is much more than money in speech. They learned that the defining of corporations as people is a form of cancer that negates the rights of the average Americans. They learned that the ills that afflict the nation are solved only when these concepts are understood. They will only be understood when we make a concerted effort by enlighting and speaking truth to our fellow Americans.
On the last day of the Move to Amend Leadership Summit, sixty or so activists descended on Capitol Hill to speak to their respective congressperson. Every single one of these activists is now a leader with tools to effect change. They are leaders who will duplicate themselves from the grassroots. The newly minted activists will permeate communities geometrically educating and informing from within. It is not flashy. It is not sexy. It is slow, simple, and pragmatic.
A political revolution requires that the oppressor is challenged from many fronts. Democracy Spring and similar actions are very important. More important, however, is building the grassroots support at the core to ensure the political revolution is sustainable.