John Oliver was not kind to Trump's new budget with draconian cuts to many social programs. He nails him in the end for the hypocrisy in defense of the budget and primarily for those who will suffer the most.
John Oliver deconstructs Trump's budget and nails its draconian nature
John Oliver nails it as he first deconstructed Trump's drastic cuts and then personalized it for Trump's voters who take the brunt of the cuts.
"This week," Oliver said. "Donald Trump, a man who constantly promise that he would run American like a business gave us our clearest sense yet of how he plans to do that."
Oliver played several news channels introducing the arrival of the Trump budget. According to Stephanopoulos, it promises the most dramatic changes to the Federal Government since World War II. He then played Wolf Blitzer displaying two rolling charts. One with cuts and one with increases.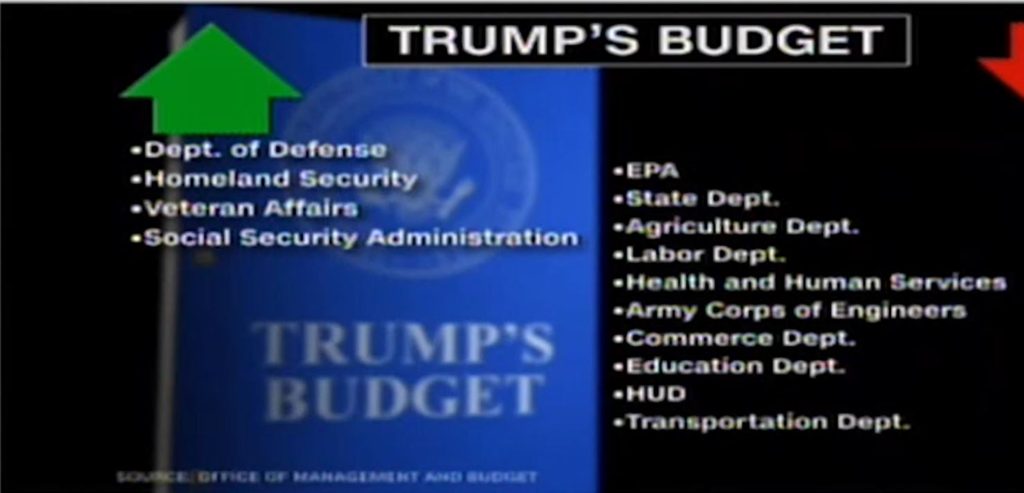 Oliver went at Trump's OMB Director Mick Mulvaney.
"I will let him give you just a glimpse into the highly scientific process by which he put this budget together," Oliver said.
John then played a clip of Mulvaney saying that they came about the budget by going through Trump speeches.
"Mulvaney treated Trump's past statements the way Trump treats women," Oliver said. "Randomly singling out a few of them and then reducing them down to numbers. But that cannot have been easy when you thinks about it cause translating the noises that come out of  Trump's face into hard policy positions; it is almost impossible."
Oliver then played several clips that made Trump seem infantile when discussing his priorities. His choice of words is completely unworthy of the office of the president.
"Non-defense discretionary spending is already at its lowest level relative to GDP in over 15 years," Oliver said. "Lower than any year of Reagan's presidency."
Later on, Oliver disputed Mulvaney's false concern for the coal miner by using to examples of programs being cut that affect the same people Mulvaney said he was trying to protect.
Oliver ended with the coup de grace.
"Those cuts are coming in a state that went for Trump, "Oliver said. "Which leads us to the weirdest things of all here. Some of the cuts in Trump's budget heavily impacts groups that voted for him."
As more comedians and satirists tell these stories, it will eventually get to some of the Trump voters. But we should all use our sphere of influence to get the truth out. Chuck Todd did a piece on Trump screwing his own voters recently as well.