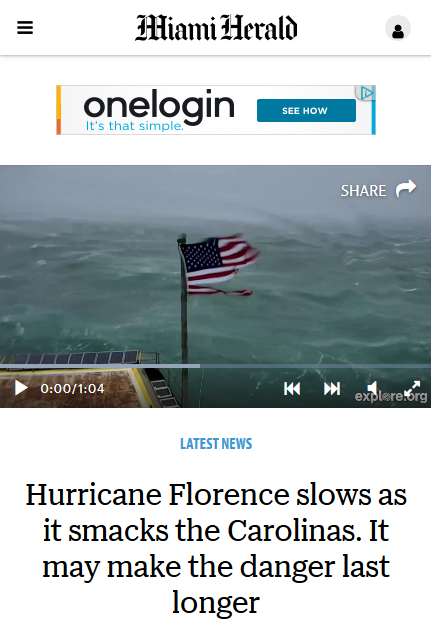 That Hurricane Florence broke rainfall records for tropical storms in both North and South Carolina shouldn't be surprising, as global climate change has increased extreme precipitation in all areas of the continental United States. One analysis released before the massive storm hit, by researchers at Stony Brook, Berkeley National Lab and the National Center for Atmospheric Research, projected that warming would cause Florence to bring twice as much rain compared to a similar storm with normal temperatures.
But news audiences were rarely informed about the contribution of human-caused climate disruption to the devastating storm, according to a study of hurricane coverage by Public Citizen. Less than 8 percent of Florence stories in the 50 top-circulation US newspapers  (9/9–16/18) mentioned climate change—and only 4 percent of segments on major TV outlets.
The New York Times had the most Florence-related stories that made reference to climate change: 15 out of 75 stories, or 20 percent. By contrast, 19 of the top 50 papers had no stories on the hurricane that mentioned climate change, including the Chicago Tribune (out of 34 stories), Atlanta Journal-Constitution (28 stories), Orlando Sentinel (37 stories) and Miami Herald (21 stories). (Three papers—the East Bay Times, San Jose Mercury News and Orange County Register—ran no stories on Florence.) Aside from the New York Times, the Philadelphia Inquirer (6 out of 32 stories) and Washington Post (4 out of 49) were the only other papers to reference climate change in Florence stories more than three times.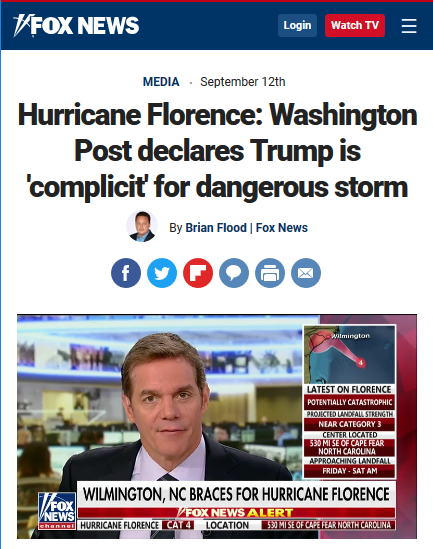 ABC never referred to climate change in its coverage of Florence, Public Citizen found; its over-the-air colleagues did little better, with CBS and NBC airing one segment apiece that mentioned Florence and climate change together (out of 63 and 73 hurricane segments, respectively). MSNBC brought up climate in 13 percent of its Florence reports, considerably ahead of CNN's 4 percent; Fox discussed climate in 10 percent of 51 segments on Florence, but, the study noted,  "All five of Fox News Network's mentions of climate change were segments denying the relationship between the storm and climate change."
"When outlets fail to connect these events to global warming, audiences are left uninformed about some of the most critical decisions we face," David Arkush, who directs Public Citizen's climate program, said in a statement. "We need a serious national discussion about the urgent, existential threat from climate change and how we are going to fix it—and it's very difficult to have that conversation when media won't talk about the topic."