In a country where we have a President driving wedges between identities whether they be race, gender, ethnicity, culture, or otherwise, this white woman's response to a black man who carjacked her should present the template of empathy we should all possess. Anyone who has been robbed, attacked at gunpoint, violated, or abused usually has some carnal response. Revenge, retribution, or more is generally the order of the day.
Carjacked Woman, Tina Kingshill, display an empathy we should replicate
While perusing my Facebook feed, a post from Tina Kingshill popped up that shocked me. "I was carjacked at gunpoint today. How did you celebrate Labor Day? #notkidding"
Tina Kingshill: I was carjacked at gunpoint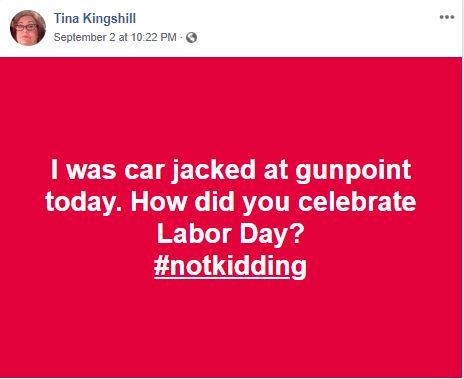 Tina's subsequent post tells volumes. She wanted to describe what happened as well as to tell other block walkers and political activists how to remain safe.
It was touching that a few hours after her carjacking, instead of showing animosity towards her carjacker, Tina displayed an empathy one wishes so many more had.
In one paragraph of a few sentences, one could see this woman's heart. In a period in our history where we have a president who uses bad things done by any person of color as a catalyst to drive white hate, her lesson in understanding humanity and causality impresses. In other words, she did not fall for the bait that too many people use to catalyze their fears into some false justified reason to hate.
Tina Kingshill: Once incarcerated for this crime his life is forever changed. The thought broke my heart.
The blink of an eye…well almost. It was over in about 30 seconds.

"Get out of the car, I have a gun and I WIll shoot you"!

As the gun is pointed at my face I didn't hesitate to get out of the car but then I realize my purse is to my right. Hoping he didn't see, I grab my purse to my side as I move to exit. "LEAVE THE PURSE", so I did. He jumps in the car and flies down the street. Boom it's done. It was just that quick.

Of course I was shaken but my main feeling was sorrow. Here was a 20 something, young Black man who's desperation led to this. Once incarcerated for this crime his life is forever changed. The thought broke my heart.

Police responded within about 15 minutes, four squad cars and they take my report. APB goes out and everyone is looking for my black Elantra. Seven hours later they locate my car and suspect in custody. Whew!

As we all hit the streets block walking over the next 2 months, I'll pass along what I've learned:

Never think it can't happen to you .. doesn't matter what neighborhood you're in.

Keep your doors locked.

Be hyper-aware of your surroundings That jogger running up the street, the kid on the bike, a car that may be trailing you.

Work in pairs, preferably a male & female team. The mindset in some of the tougher areas is assumption that the male probably has his own gun in his pocket so could be deterrent.

Will I let this stop me from doing my part moving forward? It would be a lie to say that I am not a little nervous but I won't let this experience stop me. I will get back up on that horse and do what my heart leads me to do according to my convictions. None of us has the luxury of sitting this one out! So ride on 'social justice warriors'!
ABC13 interviewed Tina for this story. They covered it solely from the crime and safety aspect. Tina's Facebook post made it a much more important and enlightening story that has the ability to change minds and attitudes.
Tina Kingshill is a former Sr. Project Controls Analyst with Williams Gas Pipeline. She was formerly apolitical until she realized one needs to engage in the body politic to make a change.
Subscribers of Politics Done Right can watch the entire 17-minute unedited interview with Tina Kingshill here.