Secretary of State Mike Pompeo appeared on Meet The Press with Chuck Todd and blamed the Obama administration for the failure of Trump's Iran policy.
Mike Pompeo blames Obama for Trump's Iran failure
Chuck Todd displayed some smart pushback during parts of the interview with Pompeo. However, he allowed the Secretary of State to spurt out some significant lies without pushback in this sub-segment.
"You guys talk about a maximum pressure campaign," Todd said. " … The fact that you've had to go to military, doesn't that tell you that sanctions haven't worked and the maximum pressure campaign is not working?"
Mike Pompeo came back with one of the most incredulous responses.
"Just the opposite, Chuck," Pompeo lied. "We suffered from eight years of Iranian support from America. We gave them billions of dollars. We gave them resources. We allowed countries to trade with them, to build up their economy. What we are now having to correct for is the enormous economic activity that took place during this Iranian nuclear deal that President Trump rightly got out of in May of 2018. It's taken a little bit of time, and it will continue to take time, but we are going to restore deterrence. We just had a big hill to climb up, Chuck. We've seen hundreds of thousands of people killed in Syria. Millions have to depart the region. We've seen Lebanese Hezbollah, Hamas, the PIJ in Gaza Strip, all of these terrorist organizations, the Shi'a militias, the Shi'a militias that we are now challenged to push back against today, all underwritten by American policy in the Obama administration. We've flipped the switch. We're draining those resources. We're going to protect America and keep American people safe."
First of all, it is a lie that the Obama administration gave Iran billions of dollars to sign the Iran deal. Here is the AP Fact check on Pompeo and Trump's lie.
TRUMP on Iran: "We gave them $150 billion and $1.8 billion and we got nothing. … Look at what they did to John Kerry and to President Obama. Look what happened, where they're bringing planeloads of cash, planeloads, big planes, 757s, Boeing 757s coming in loaded up with cash. What kind of a deal is that?" — news conference with Macron.

THE FACTS: It's the kind of deal that did not actually take place.

When Iran signed the multinational deal to restrain its nuclear development in return for being freed from sanctions, it regained access to its own assets, which had been frozen abroad. There was no $150 billion gift from the U.S. treasury or other countries. Iran was allowed to get its money back.

The $1.8 billion refers to a separate matter, also misstated by the president going back to before the 2016 election.

A payout of roughly that amount did come from the U.S. treasury. It was to pay an old IOU.

In the 1970s, Iran paid the U.S. $400 million for military equipment that was never delivered because the government was overthrown and diplomatic relations ruptured. After the nuclear deal, the U.S. and Iran announced they had settled the matter, with the U.S. agreeing to pay the $400 million principal along with about $1.3 billion in interest.

The $400 million was paid in cash and flown to Tehran on a cargo plane. The arrangement provided for the interest to be paid later.

In Trump's telling, one cargo plane with $400 million that was owed to Iran has become "big planes, 757s, Boeing 757s," loaded with a $1.8 billion giveaway.
What concerns me more is how effectively orchestrated the killing of Qessem Soleimani is within the media alternative and independent media. I am already receiving essays ready to print to my website. The essays sound newsy and fair initially but as you read it is propaganda from the Trump administration.
Here are the images. I refuse to include the actual prose as I refuse to give false information google scannable access to my site or any other site that reposts my articles.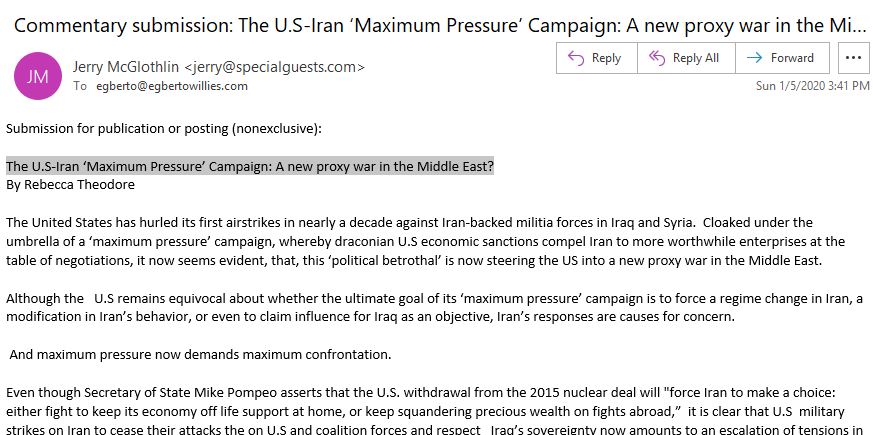 ---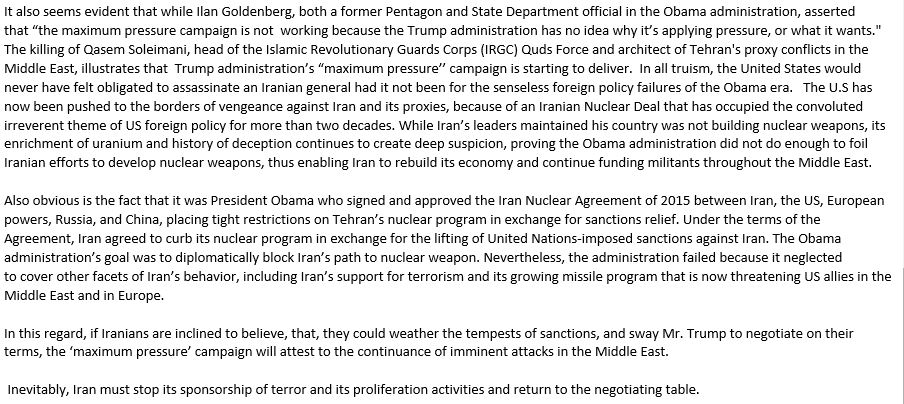 I don't see this type of organization on the left. These guys are seeding the blogosphere and other sites with bogus information. And search engines will pick them up. The idea is as they dominate the number of articles online. More people will be misinformed by them. The paradigm has shifted and all of us would do well engaging.
On a side note, there is someone else that understands seeding and microtargeting. That is Michael Bloomberg. We all better step it up. Share and republish our progressive information widely on every platform.