On Monday, Georgia's Board of Elections issued a directive that allows county election supervisors to block new registrations of voters who do not have a car registered in Georgia. I kid you not.
This is a new impediment to low-income, urban voters and students, groups that vote overwhelmingly Democratic, just prior to the January 5 run-off election for Georgia's two US Senate seats.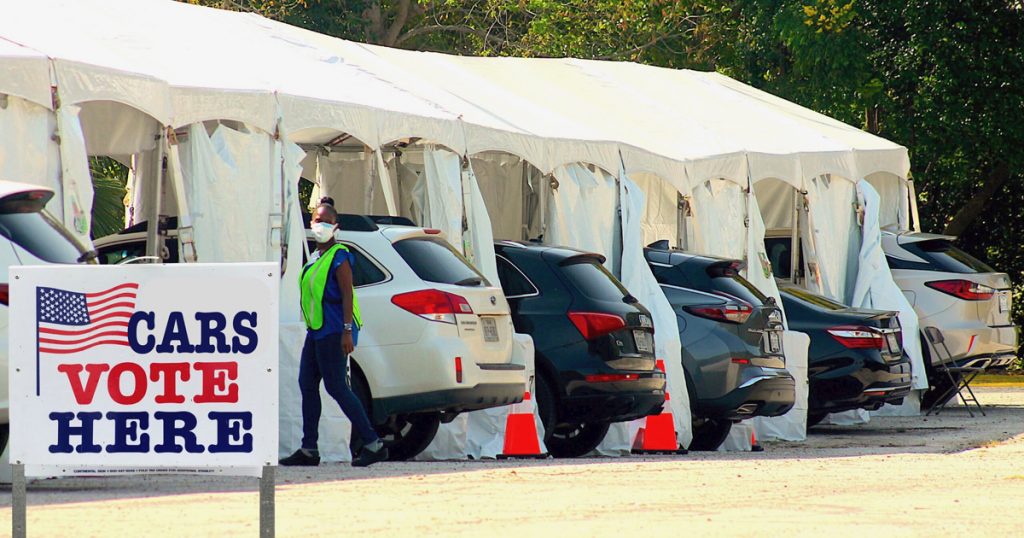 The Board acted after Republican Secretary of State Brad Raffensperger quietly sent out a notice on Sunday afternoon calling for an "emergency" change of rules.
---
Check out our new book "
It's Worth It: How to Talk To Your Right-Wing Relatives, Friends, and Neighbors
" today knowing you (1) Get communication techniques & (2) Support Progressive message delivery.
---
Raffensperger convened a State Board of Elections "emergency" meeting just hours later, at 8am on Monday, in Atlanta. The Palast Investigations Fund team joined the Zoom meet along with the president of the Georgia NAACP and Helen Butler, head of the Georgia Coalition for a Peoples Agenda.
The Board announced that they did not have to vote on the rule—but could simply adopt it as a "guidance" directive which would have the same power to block registrations.
Columbia University law professor Barbara Arnwine told us the no-car no-vote "emergency" regulation "is a clear violation of the NVRA," the National Voter Registration Act. Arnwine, dean of America's voting rights lawyers and founder of the Transformative Justice Coalition, said she suspected the state's change from a "rule" to a "guidance" is to try to get around the NVRA's prohibition on rule changes within 90 days of an election. However, she said, that's a trick which fails the smell test. "It's in substance a change of rules."
The "emergency" rule is supposed to stop voter fraud by those coming into Georgia just to vote in the run-off. So, Palast Investigative Fund Asst. Producer Terry Manpearl asked if the Sec. of State found even one single case of a non-Georgian voting, a serious crime, "And if so, have you arrested them?" They did not answer.
---
Check out our book "
As I See It – Class Warfare: The Only Resort To Right Wing Doom
" today knowing you (1) Will understand government/economy & (2) Support Progressive message delivery.
---
Technically, the state can't stop Georgia citizens from voting because they don't have a car. Rather, any registrar can "challenge" and thereby delay a voter's registration until they have a hearing where they will be required to prove residence. This creates a huge impediment to new voters.
As a practical matter, a challenged car-less voter will be unlikely to vote in the January 5 run-off. Combining the holidays with Covid, it is hard to imagine that voters can complete the hearing process and get a decision in time to vote. And few challenged voters would be expected to put themselves through a court-like hearing.
The grounds for the challenge is that a new voter, having no auto registered in Georgia, may be a non-resident attempting to commit the felony crime of illegal registration.
This is Jim Crow all over again. The so-called 'guidance' directs registrars to check auto registrations and, at their discretion, challenge voters and force them to a hearing. It is effectively a poll tax – no car, no vote – combined with the old 'literacy' test game of Georgia's past when, at the "discretion" of the registrar, white people were asked to name the president while Black citizens were asked to recite the Constitution. I've been investigating Georgia vote suppression techniques for seven years, and this is simply a variant of a trick they used before to block or attempt to block voters — including my daughter.
Reverend James Woodall, President of the Georgia NAACP, told the Board of Elections that the rule would lead to, "disenfranchisement of students, seniors and retirees that often live in assisted home facilities. To suggest that newly registered voters could possibly be frauds is very dangerous."
Georgia State University professor Liz Throop stated, "Secretary [Brad] Raffensperger has recently and repeatedly assured the media that he is a Republican and he hopes Republican candidates succeed in current elections. We all know which party [this rule] favors: older, wealthier, better established Georgia. The car-less, the young and the poor, are most likely to be disadvantaged."
---
Check out our book "
Lose Weight And Be Fit Now: Say No To Snake Oil Weight
" today knowing this my direct experience with weight loss, weight control, and maintenance my way which you will do your way.
---
Palast team attorneys are reviewing the legal options to protect voters. Palast and Butler successfully sued Georgia's Secretary of State earlier this year obtaining a federal court ruling requiring the state to open its secret correspondence on racially-biased vote roll purges.
Georgians, the run-off registration deadline is December 7. If you are challenged, blocked, or impeded in any way, let us know at [email protected]