Senator Bernie Sanders slammed Sen. Blunt and the GOP for their hypocrisy on student loan forgiveness. A TikTok user nailed it.
Student Loan Forgiveness Hypocrisy.
Senator Bernie Sanders (D-VT_and Roy Blunt (R-MO) appeared on This Week with George Stephanopoulos to discuss President Joe Biden's student loan forgiveness order. It is clear that Sanders and Blunt disagreed on the issue.
Blunt attempted to pit Americans against Americans with his opposition to the plan. He is attempting to create animosity between those who did not go to college for financial reasons or those who paid off their loans and those who will get some loan forgiveness. It would be interesting if he extrapolated that reality to businesses that got assistance from Uncle Sam and those left to die.
Bernie would have none of it. When told that Roy Blunt said that student loan forgiveness would hurt the economy, Bernie snapped back.
"He's wrong," Bernie said. "60% of the benefits go to people who are on Pell Grants. 87% of the benefits go to people who are making $75,000 a year. So it is shocking, George, to some Republicans that the government actually, on occasion, does something to benefit working families and low-income people. I don't hear any of these Republicans squawking when we give massive tax breaks to billionaires. We need to make public colleges and universities tuition-free."
Roy Blunt lied. Most economists, in fact, said student loan forgiveness would have a minimal effect on inflation.
The hypocrisy of Republicans is astounding. They are complaining about students getting a few thousand dollars of relief. Yet, many of these same Republicans have gotten hundreds of thousands of dollars from governmental handouts. The following tells the story.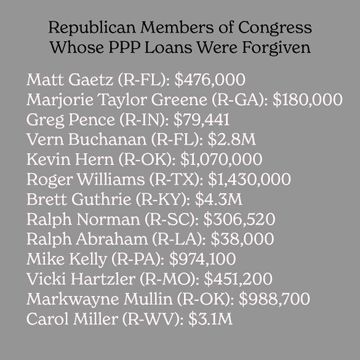 Why didn't George Stephanopoulos ask Roy Blunt why he did not consider the hundreds of thousands of PPP dollars inflationary? Why did he not challenge the hypocrisy? And that is why the dereliction of the mainstream media is partially responsible for an uninformed population voting against its interests.